You can also watch our holiday video of Georgia here:
Georgia was the second leg of our international holiday in the first half of 2018.  Ntando and I had just had a wonderful time in Turkey and now we were on our way to Georgia.  I had told the travel agent I wanted a trip of around three weeks and since Turkey was about 13 days, I told him to surprise us with something else.  He gave us Georgia and since we want to travel to every country in the world, we were ready to go.  Given my love of Soviet history, I was up for this trip.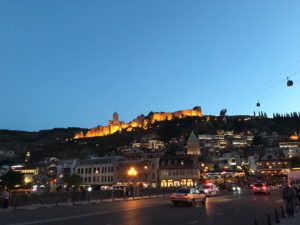 We had a tour guide since we had no idea what to expect in terms of the levels of English and our Georgian is non-existent.  A woman named Nata would be our guide.  She speaks English well enough but there were several times where we got lost in translation.  Nevertheless, we would never complain.  We fully understand that we are in Georgia and it is our problem if we cannot understand – not the other way around.  The driver was a guy named Guga, who would turn out to be nothing short of excellent.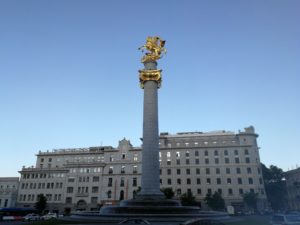 Before the trip began there was a moment of drama at Shota Rustaveli Tbilisi International Airport.  South Africans can enter Georgia visa free and I had passed through customs quite easily but Ntando had some challenges.  My wife was sent to a separate booth where she was asked a few additional questions.  The only other people that were given similar instructions were also people of colour.  I was livid at this blatant racism.  Even though I had just arrived, I was already feeling like I wanted to go home.  My wife is made of tougher stuff though.  She brushed it off and announced that she was intent on leaving her mark on Georgia.  I was encouraged by her attitude but was still feeling angry.
Further to that we found Georgians to be particularly unfriendly and miserable people.  I have read that Russians do not smile as they find it suspicious behaviour and given that Russia and Georgia are neighbours, perhaps they have this in common.  Service levels are equally dismal.  Occasionally you might find a very good waiter or waitress, but mostly they are not of a very high standard.  More on that later.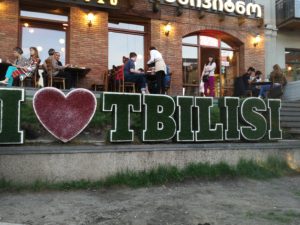 After checking in to the Ameri Plaza hotel in Tbilisi, Ntando and I decided to go for a short walk up and down Merab Kostava Street.  We would walk past the Giorgi Saakadze Monument.  Saakadze was a 17th century politician and military commander.   Along the main road we would also find several familiar outlets like Spar, McDonald's and Subway as well as a curiously red-and-yellow branded food stall with an upside down golden arch.  We sensed plagiarism, copyright infringement and several law suits.  We also sensed the glorious aroma and were lured in before purchasing what would turn out to be the most delicious chicken shwarma we had ever tasted.  As you can guess, we went back for more.  If you do this too, be warned, the shwarmas are huge and the small option, which costs just ₾7 is more than sufficient.  If you are in Tbilisi you have to visit what we christened "The upside down McDonald's".  Guga would later tell us the Georgians call it McShuarma.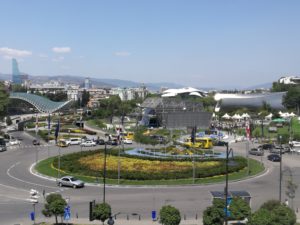 While walking the streets we encountered quite a few beggars.  We tried to help wherever we could with a few lari.  I could not help but wonder how much poorer, or prosperous, these folks were during the Soviet era.  One thing I detected early on from Nata, was that she, like most Georgians, had very little love for Russia.  She referred to the Soviet period as the time of colonisation, for example.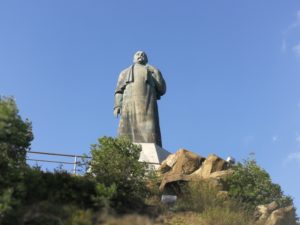 If you thought car guards were unique to South Africa, think again.  Car guards operate in Georgia too.  Ntando and I joked that Santam would need to change their insurance advert where they portrayed car guards as being one of the "one of a kind" elements found in South Africa.
Nata turned out to be a very formal and by-the-book kind of tour guide with very little room for flexibility, much to our disappointment.  The matter was compounded by our tour itinerary which would only stipulate where we were going for the day but omit the details of the excursion.  Yes, in hindsight we should have insisted on the details, but at the same time I felt that a tour programme of Tbilisi and surrounds, would inevitably include the best sights and activities.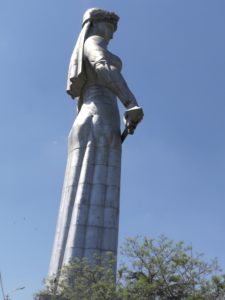 As it turned out this was not the case for us.  Our trip was basically a tour of churches.  As Christians we were not unhappy at visiting an impressive cathedral here and there but we wanted to see the sights and do the fun things.  Nata was not very helpful in terms of making suggestions or offering alternative options to the programme, which we were more than happy to deviate from.  Ntando was horrified to learn that one of the days' activities was a trip to Tbilisi Mall.  We certainly did not come to Georgia to explore a mall.
Ntando spoke to Nata and insisted the tour operators give us something else.  They did.  It would be a dinner and dance experience at a lovely restaurant in Tbilisi on our final night.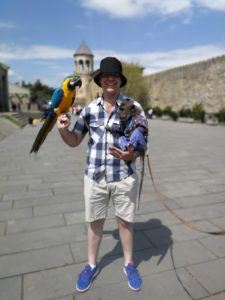 Unfortunately, as it turned out our best moments in Tbilisi were actually when we called off the day's activities with Nata early and went exploring by ourselves.  We made our way through the narrow streets of Old Tbilisi just off Freedom Square (also called Liberty Square).  We loved the charm and eclectic feel of the place.  I remarked to my wife that we had been in Tbilisi four days and for the first time I felt as if I was actually there.  There is no Uber in Tbilisi but I downloaded Taxify and after our evening walk along the Bridge of Peace which crosses the Mtkvari River, we would use this service to make our way home.  Once the lights came on the city really shone in a superb way and we felt as if we had been robbed of this by a tour guide and operator that failed to include this experience, or even recommend it as an alternative option.
Even so we did enjoy visits to the sulphur baths and Ntando had her nails done.  Can you believe that while that was taking place, Nata advised I should wait at the hotel?  No way was that ever going to happen.  I set off on foot and walked up and down Pekini Avenue.  The retailers fill this main road and many of them were having discounted offers on the late April day that I made my way up and down.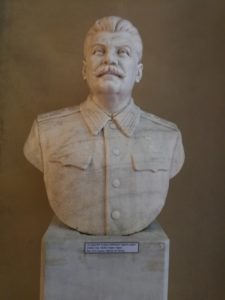 The visit to Gori, the birthplace of Joseph Stalin, was a highlight for me.  Stalin was an evil man in my view but as I have mentioned Soviet history fascinates me and I loved visiting this town where we saw the house where Stalin grew up as a boy as well as visiting the Stalin museum.  We were also able to take a tour through the train carriage in which the former Communist Party General Secretary travelled.  Unbelievably, Nata discouraged us from visiting the train and the museum.  According to her there was nothing to see in the former, and the latter was expensive.  We were more than happy to part with the ₾15.  I understand that Soviet history and Russia is not something that Nata is keen on, but as I said to Ntando, this would be like visiting South Africa and your guide discourages you from visiting important sites related to apartheid.  Foreigners will obviously be fascinated by it.
Something else I noticed in Gori, and indeed Tbilisi, were the high-rise, multiple-storey apartment blocks that have come to be known as Khrushchyovka, after Nikita Khrushev, who ordered their building as a housing solution during his time as head of state of the Soviet Union.  If you're in a capitalist country, just imagine the oldest, most rundown apartment block in the worst part of town.  That is basically what a Khrushchyovka looks like.  These are true relics of the Soviet Union.
We would also visit the caves at Uplistsikhe.  The trip started on a startling note though as a large orange snake was slithering and bouncing along the rocks as we began our journey.  Led by me, we ran for cover.  The curators informed Nata that it was nothing to be concerned about.  Apparently the snake was not a real snake and we should feel honoured to have encountered this creature.  I felt no sense of honour at all.  We plucked up the courage and attempted a second trip up the rocks and climbed mostly all the way to the top.
We would then stop for a late lunch where we were introduced to khachapuri (a delicious Georgian pizza) and khinkali (dumplings filled with mince and juice).  Both these delicacies were a triumph to my taste buds.  I washed it down with a negebis liminati (a creamy, milky flavoured lemonade) manufactured by Narakhtari.  This was recommended by Guga, who was fast outshining the tour guide despite just being the driver.  Nata and Guga joined us for the lunch.  All four of us feasted together so you can imagine my horror when the bill came and the two of them disappeared.  I went ahead and paid for it but I was unimpressed.  Given our tour guide's attitude and the snake experience, not to mention the airport incident, this trip was not quite going according to plan.  Thankfully we mostly redeemed it with that one evening experience in Tbilisi later.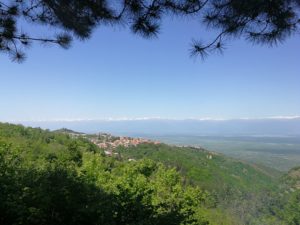 We would visit the Church of the Holy Cross at Mtskheta, where we also stopped to have a picture taken with a blue and yellow parrot, and a monkey.  Ntando and I took a decision the night before that no matter how we were feeling, going forward we would not be hungry at all during our time with Nata and Guga.  However, we were warming to our driver, who to be fair, had eaten minimally at the luncheon and you could even argue he was eating merely to demonstrate to us how to do it.  Eating the khinkali for example, requires a specific technique which I did not quite master, much to Ntando's amusement (or possibly bemusement).  Guga would go on to recommend a Tbilisi restaurant to us where I helped myself to more khachapuri and khinkali.  Ntando's dish was a disappointment though as she searched for proper meat done medium-rare with a credible serving of vegetables.
When we visited Kakheti I was mostly impressed by the views of the snowcapped Caucasus Mountains.  We also had an enjoyable stop at the Alexander Chavchavadze Museum at Tsinandali, surrounded by lush lawns and trees.  On the way Guga stopped to buy bread and cheese.  Not only did he buy it himself, he also shared it with us.  At that point we felt he had more than redeemed himself.  Nata's attempt to satisfy our tummies was to give us a taste of churchkhela (grapes and flour stretched out like a candle and filled with nuts).  We were not overly impressed with this food, just as we were unimpressed by the stop in the town of Sighnaghi, branded the City of Love.  As far as we could tell there was nothing to it.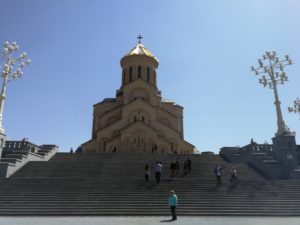 The trip would end on a bittersweet note.  We sat down at the Mravaljamieri restaurant.  We were entertained by traditional Georgian music and dancers.  The food was delicious too.  I tucked in to fried piglet but my wife's hopes of devouring a rack of ribs never materialised.  The waiter never placed her order.  After waiting for 45 minutes, this information became known to us.  It was compounded by us having to wave down the waiting staff each time we wanted to place an order.  I found the service level awful to say the least and was angry that a 10% service charge was built into the bill.  What was I paying for here?
As we departed Ntando and I agreed that we would give Guga a generous tip.  In the end he was the helpful guide we were hoping Nata would be.  Georgia is a lovely place with much to see and a fair bit to do too.  I would not describe the trip as a bad one, but we have certainly had better.  Even so, I think that one night exploring Tbilisi with my wife, made the trip to Georgia worth it.