You can also view our Jordan holiday video here:
It was the middle of November and time for a joyful trip to jolly old Jordan.  It was a whistle stop tour and the only negative was that we did not have enough time to see it all.  As usual I made a point of reading up on the country and its offerings before the time, so as to experience the best bits in the shortest time.  Ntando had already spent four days in the Hashemite Kingdom of Jordan before I arrived.
My first day was spent sleeping mostly, as I had not slept the night before – a combination of a night shift at work followed by an early morning flight.  So, after the less-than-three-hour trip from Doha to Amman, I was in need of some rest.  We knew this would happen so planned Day One to be in the Jordanian capital anyway.  By the time we got moving and arrived at the Roman Citadel, known locally as Al-Qala'a, it was closed for entry.  We went back to the hotel and regrouped.  I had researched what was believed to be a must-eat-at restaurant – Hashem.  However, when we arrived there, to my horror anyway, we discovered that they did vegetarian foods exclusively.  That was never going to do.  Ntando does not mind the veggie eating scene but I need some meat.  Dinner without meat is not my idea of a meal. Ever.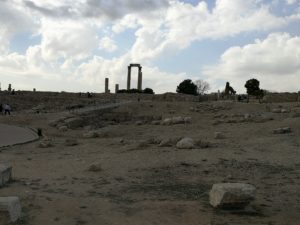 Ntando also had a good laugh at me since this was my recommendation.  She used her excellent exploratory skills to find us a different, considerably more upmarket restaurant, Cantaloupe, situated on the trendy Rainbow Street.  Even though it was after dark, the view of the night lights was still a good one.  To our delight we discovered we had arrived just in time to enjoy Happy Hour.  That meant a 25% discount on everything.  Be warned though, in Jordan all prices are quoted without tax.  You will receive your bill, plus tax, plus a service fee in the case of this restaurant.  The tax and service fee virtually wiped out the Happy Hour discount.  Another thing you might find unusual is the extra decimal.  Most currencies divide into subunits of 100, but the Jordanian Dinar divides into subunits of 1000.
Cantaloupe trumped Hashem but research that yielded a better result was the Jordan Travel & Tourism agency, JTT or Jett.  To put it into perspective, Jett offered bus rides to Petra from Amman for JOD18 per person compared to our hotel's offer of JOD75.  My prior research also brought the Jordan Pass to my attention.  This is a document, if purchased for at least JOD75, will waive your visa fee and give you automatic (queue-free) entry into many of the country's top tourist destinations.  It seemed like a pretty good deal to me, so I bought one each for myself and Ntando even though South Africans can enter Jordan visa free anyway.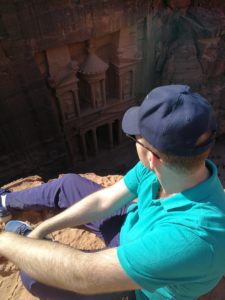 But none of us were moaning when we skipped the, admittedly, short queue after arriving at Petra.  That was also JOD50 taken care of.  Petra is marketed as the jewel in the Jordanian crown.  After moving through the entrance gate we began our walk towards the famed Treasury.  A narrow gorge, flanked on either side by high cliffs known as the Siq, is filled with guides who are trying to sell you their services as a guide, on foot, on a donkey, camel, horse or horse carriage.  They will tell you it is included in your ticket price.  What they do not tell you is that it is included in your ticket price only for a few metres after which their own personal metres start running.  Furthermore, you travel at the same speed you would have travelled on foot anyway since your horse, donkey or camel can only go as fast as the guide is walking.  The horse carriage is obviously the exception.  We walked and had to bat away several of these salesmen.
We marvelled at the rock formations and then at the end of the Siq we cast our eyes on the magnificent Treasury, or Al-Khazneh.  This 43-metre high and 30-metre wide monument is truly a sight to behold.  It was carved in the early 1st century as the tomb of an important Nabataean king.  It was also used during the filming of Indiana Jones and the Last Crusade.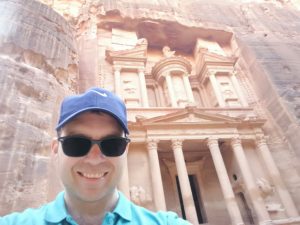 Now despite what I wrote here about avoiding the endless army of salesman, we were also approached by a younger variety of this ilk.  A young lad likely not older than 12 was persistent in taking us up the mountain so we could see 'The View'.  Ntando negotiated with the young fellow and he dropped his price from JOD20 to JOD15.  He told us his name was Tiger.  The young cub made good on his word after we took some pictures and videos at ground level.  We climbed up the mountain and reached a top point from where we looked down at the Treasury.  It was quite wonderful, and Tiger took some photos for us as well.  After we made our way down, we gave him JOD20 anyway and I am quite sure the boy appreciated his tip.
After that experience we continued to the Nabataean-built, Roman-style theatre which they say could seat 3 000 people.  The other important monument at Petra is the tomb of Aaron, brother of Moses.  Although I would have liked to see it, I had run out of steam after the mountain climb up to 'The View' and decided against it.  I did see plenty of donkeys, camels, horses and horse carriages on the walk back to the entrance of Petra though.
Something else we saw on the bus ride back to Amman was a Jordanian tourism promotional video.  An American journalist, Peter Greenberg managed to secure King Abdullah as his tour guide in this documentary.  Imagine my reaction when the king told Greenberg that Wadi Rum was his favourite spot in all of Jordan.  To put this in context, we had to choose between Petra and Wadi Rum owing to the time limitations of our trip.  I guess we will just have to come back to experience Wadi Rum next time.  After all, the king has spoken.
Since the Jett experience had been a good one on this excursion, I booked a second trip with the agency to take us to the Dead Sea.  This time around it did not work out well at all.  We arrived at the pick-up point at 08:20.  The bus departure time was scheduled for 08:30 however by 08:50 there was still no bus.  There was however an overzealous taxi driver who was incredibly eager to assist.  I have travelled enough to know that this man was not really trying to help.  I can support that suspicion by telling you that at 08:20 he offered us a taxi ride but after we told him we were there for the bus, he pointed to where the bus would stop.  Amazingly at 08:35 he offered another taxi ride because the bus had come and gone – according to him anyway, and of course there was the famous pay-off line, "I'll give you a good price."
Ultimately the bus never arrived.  The agency's offices, luckily, are just a few metres away and so we went there to try and negotiate a refund.  They insisted that their bus did stop there and their GPS records showed the same.  The only bus that we saw had a driver that insisted his bus was not Jett and that he was doing a private tour for guests at the nearby Intercontinental Hotel.  Oh well …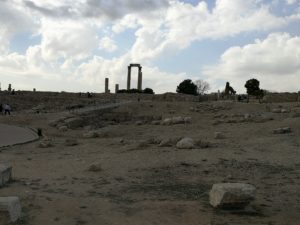 We took the opportunity to explore Amman some more; trying to make up for the lost chances from two days earlier.  Off we went to the Citadel, stylised as the Amman Citadel.  The Jordan Pass got us in, although the actual entrance fee is only JOD3.  The area itself sits atop a hill and you can get great panoramic views of the capital city's ubiquitous stonewashed apartment blocks.  They are all the same colour in accordance with a municipal law, which states that all buildings must be faced with local stone, I read.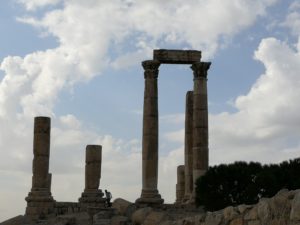 The Citadel itself includes impressive structures like the Temple of Hercules, the Umayyad Palace and the Byzantine Church.  From there we took a walk down the hill to the Roman Theatre.  I had read that Jordanians are very friendly people and welcoming of tourists.  To be honest we experienced this from our uber drivers as well as hotel staff as you might expect but imagine the warm fuzzy feeling when we were walking down the hill and a mother and daughter walked past us and the young girl, around 6, said, "Welcome to Jordan!"
The Roman Theatre itself seats 6 000 and has two small museum exhibitions on either side showcasing Jordanian history and culture.  The Roman Theatre is still used for cultural events today.  The entrance fee is JOD2 and again you can just use the Jordan Pass – that's JOD55 taken care of thus far.
It was also enjoyable driving through the streets of the city, especially the old city centre, known as the Balad, where we could just enjoy viewing the traditional sights and shops.  After that it was back to the hotel for a quick gym session and after showering, we were on our way to a restaurant recommended to us by one of Ntando's friends.  It was a nice enough setting in a trendy part of town.  I ordered Mansaf, Jordan's signature dish.  It is lamb shank on a giant bed of rice with yoghurt.  It is fairly bland, but I really enjoyed it.  In fact, I could not even finish all the rice.  Ntando's meal was less satisfying.  There are few things worse than a meal that does not hit the spot.  I remembered reading about Shawermat Reem; a street kiosk that allegedly serves the best schwarma in Amman.  They are positioned at 2nd Circle and to give you an idea, there are seven main traffic circles in Amman and they are used as references for directions, and also locations, almost like suburbs.  We made our way there and knew it was authentic when we saw the queue and noticed the menu was written in Arabic only.
Alas, the schwarma was also a disappointment.  Ntando did not like it at all and we ended up returning to our hotel with at least one dissatisfied stomach.  There was one more fun thing to look forward to though – the following day's excursion.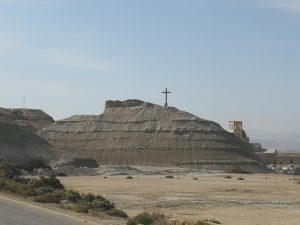 To make up for the disappointment of the Jett Dead Sea experience, I used our hotel's service to book a trip there.  It was considerably more expensive but as you'll soon read, well worth it.  We had a driver-cum-tour guide who was at the ready with cool bottles of water and wet towels for our comfort, not to mention the comfortable sedan vehicle.  Our first stop that morning was Bethany Beyond the Jordan.  The Jordan Pass works here too.  In this case it was JOD12 but it also brought an end to the Jordan Pass relevance and so ultimately we only got JOD67's value out of our JOD78 ticket.  I would recommend at least one extra day in Petra and you would get full value and then some.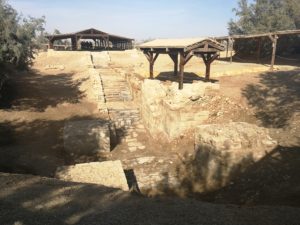 On the way to the Baptism Site you'll drive through the beautiful Jordan Valley.  It is certainly not lush green but more of a barren landscape scattered with shrubs and olive trees with mountains and hills a plenty.  It is pleasing enough on the eye.  Once you arrive at the entrance to the Baptism Site you will be taken on a shuttle for a short drive.  The shuttle gets off and you begin walking to the Jordan River.  It is quite narrow and the actual spot where Jesus was baptised by John is now bone dry.  The river has receded so much over the years that the actual baptism site is now a cordoned off monument.  That said as Christians it was very special for us to actually be there.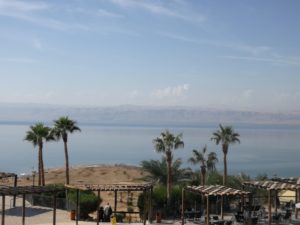 The trip does not end there as you continue walking to see a church and then you can go down a short hill to where the Jordan River indeed flows.  You can go into the water, but a border control guard is watching like a hawk to make sure you don't go beyond the limits.  It is approximately ten metres to the other side of the river; the Israeli side.  As you can image Israel has a similar tourist offering and we watched as several tourists to that country were being baptised in the Jordan River.  They certainly appeared to be having a lot more fun than those of us on the Jordanian side but again, in terms of the experience, it was very special and don't forget the actual place where John baptised Jesus, is on the Jordanian side and it is far enough away that Israel's tourists can't even see it.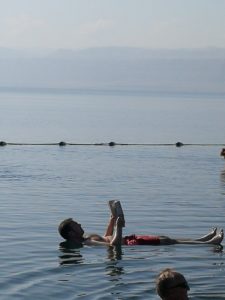 After the Baptism Site experience, it was time for the highlight of the entire trip: The Dead Sea.  You can read about it, see the pictures and videos, but when you are actually there you still do not trust that you will actually float on the water.  I made my way into the Dead Sea turned around and gently eased into it with my back and the next thing you know, I was floating.  What actually happens is that a number of incoming rivers reach the Dead Sea but because it is land-locked, the waters have nowhere to go, so they evaporate and leave behind a dense, rich, cocktail of salts and minerals that are excellent for the skin, among many other benefits.  The water is ten times saltier than regular sea water and yes, despite being warned I put some on my lips to get an idea.  Well, it is super salty and you will want to spit furiously but given how many tourists are already in the water and surrounding you, spitting is not really an option.  Despite reading advice to the contrary I also turned around and attempted to swim freestyle.  It is possible but with some difficulty.  The water's properties simply cause you to tumble over inside the sea.  It is a unique experience and a lot of fun at the same time.  The water itself has a slightly oily texture which adds to the uniqueness.  Once you get out of the Dead Sea there are shower facilities for you to wash yourself.  It is recommended to do so soon after getting out of the water.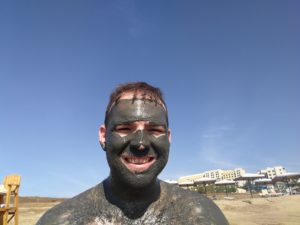 Ntando and I also covered ourselves in the Dead Sea's mud.  Not only is this a major tourist activity by itself, but the mud is also rich with minerals and properties that are excellent for the skin too.  Mrs Stemmet made sure to buy herself some bottled mud.  The Dead Sea also happens to be the lowest point on Earth at around 400 metres below sea level.  I am not sure we will attempt to reach the highest point anytime soon though.  It is recorded that the likes of King Herod and the Egyptian Queen Cleopatra have floated in the Dead Sea and covered themselves in mud.  Well, now the Stemmets are also part of that elite group.