Photo credit: Jack Taylor/Getty Images
South Africa's sixth democratic elections are a week away and I remain as excited as I have been for each of the previous five, most notably 2004, when I was eligible to vote for the first time. There is real political fatigue among our country's citizens though – you only have to be on social media to know it. Our elections are not competitive and have a certain predictability about them that you might argue brings stability to a young democracy. There remains deep suspicion on the part of the older generation of anyone of a different political persuasion. This is not so strongly the case with the younger generation, and those who truly believe the African National Congress will rule 'until Jesus comes' will ultimately be proven wrong.
In the immediate period after colonialism, India was governed by the Indian National Congress for 30 years uninterrupted and then someone else won and the elections are competitive to this day. Personally, I do think the ANC are not in danger of losing a general election until at least 2034.
So, if we know who will win, and probably by how much, then why bother voting? Well because it is our right as citizens and this is one of our only ways to actively participate in democracy, that so many fought and died for. That said, I have largely softened my view on people who opt not to vote. I have come to accept that abstaining is in itself a way of democratically expressing oneself. More to the point, I would argue if you pay tax (and that includes VAT) then you have every right to question what the government is doing anyway.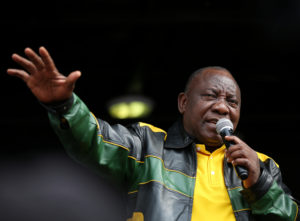 We have 48 political parties contesting these elections. In my mind there is only one assured winner, an inevitable distant runner-up and an even more distant bronze medallist. The real fight is actually among the smaller parties to see who has grown, who has fallen from loftier positions, who has resonated enough to win a few seats, and who has not made any dent at all and will go back to their day jobs after the elections.
For starters there are too many similar parties. I remember interviewing Agang members five years ago and asked them what was truly different between them and the Democratic Alliance. They were at pains to point out that their education policy was different. I am sorry but that is not enough to differentiate yourself from another party. Parties will inevitably have wings or factions. There is no way that every DA member agrees with 100% of what the party stands for. I would argue that the average member of any party probably agrees with at least 70% of the party's policies and then from there you will have members who are a little more conservative, or slightly more liberal, or whatever the case may be. You can see the factions within the ANC and the DA. Perhaps none of the other parties are yet big enough for us to see it but the day will come when someone inside the Economic Freedom Fighters challenges Julius Malema on the grounds that he is either too radical, or not radical enough. The day will come.
With that in mind we could easily reduce the 48 competing parties to about 12 I would say. Nevertheless the beauty of democracy is that anyone can take part. The ANC, DA and EFF will finish first, second and third respectively. The real question for me is whether the ANC will dip below 60% of the overall vote and I don't think they will. The other question is whether the DA and its allies can muster together enough votes to take Gauteng away from the ANC. I think they will ultimately fall short.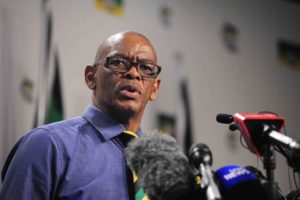 The Cyril Ramaphosa factor cannot be underestimated. My heart breaks looking at the battle the president is currently fighting. He is fighting to clean up the state as well as his own party, while trying to run a country. He is no one's envy. Except of course the Ace Magashules of this world who have not yet stopped licking their lips in anticipation of getting their hands on state resources. I will not go into Magashule's misdemeanours in the Free State here, but suffice to say I am no fan of his. In my view, Magashule does not represent the ANC. The ANC stands for non-racialism, among many other noble things. Magashule's recent calls for party supporters not to vote for the white man is utterly ridiculous. There are many white men in the ANC, and there were many white men in the ANC during the struggle years. If you stood for non-racialism, you were welcome in the ANC. Magashule is a disgrace to this organisation. He is not what Albert Luthuli, Oliver Tambo and Nelson Mandela built and stood for.
Unfortunately in the modern context Magashule is one of the leaders of a nefarious faction within the ANC. Given that the ANC will win this election comfortably, it should be every South African's hope that Ramaphosa not only eradicates the organisation of these gangsters (thanks Pieter-Louis Myburgh) but can then continue to build on what has been a decent start to his presidency.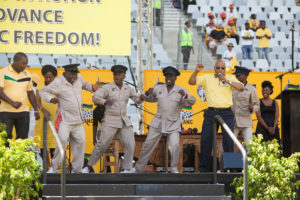 Those who have called on Ramaphosa to have to have done more, or said he is operating too slowly, or, even worse, accused him of being complicit in the Jacob Zuma years of pillaging, are arguing without merit in my view.
Do not forget that the president is fighting a battle within his own party too. He cannot move too quickly. He has to be meticulous and strategic and it really is a case of one thing at a time. This is what he has already achieved since becoming president:
He has already reshuffled the cabinet. Granted there are still some thugs present, but you can see Magashule, as the ANC Secretary-General, and his men ensuring some of "their people" are still in there. You can see the cabinet changing again after the elections. It may have gone unnoticed but the president has also ensured the proclamation of the Special Units under the National Prosecuting Authority was signed and sealed. That paves the way for the NPA to fulfil its mandate without interference. This is actually a big deal given what we saw in the Zuma years. Ramaphosa has also replaced some questionable figures in key positions in the security cluster. That cannot be understated; Shamila Bathoi replacing Shaun Abrahams for instance. We have a new head of SAPS Crime Intelligence, Assets Forfeiture Unit and the South African Revenue Service; the latter which was strongly opposed by Malema, who has a relationship with a known tax evading cigarette smuggler. Funny how white monopoly capital was not a problem when his party was initially founded and funded. Robert McBride is also back as the head of the ethics and anti-corruption unit in the entire public service. The president is also restructuring the State-Owned Enterprises and he was on a global tour last year attempting to woo and entice fresh investors into the country. There is a very real and definite clean up taking place under the president.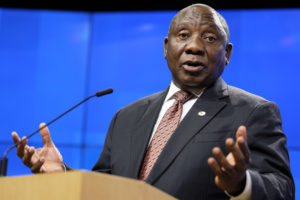 On being complicit in the Zuma skulduggery, I say this: He was the deputy president at the time and would obviously have been aware of what was going on. If you think for one minute, that he should have intervened, I would ask you to kindly explain how this scenario would have played out practically? Before you answer, I can tell you: It would have ended badly. Zuma, Ramaphosa's then employer, would have either fired him or redeployed him to mundane tasks. Remember the deputy president's job is pretty much whatever the president says it is. At the same time with Ramaphosa sidelined, the Zuma camp would have moved to strengthen Nkosazana Dlamini-Zuma's position. Folks, if Ramaphosa had intervened, as some suggest he should have, I can guarantee we would have a Dlamini-Zuma presidency on our hands with David Mabuza and Magashule in an even stronger position. Would you rather have that? Ramaphosa played the game perfectly in my view. He bided his time and moved in at the opportune moment. I frankly do not know how else he could have done it.
I accept that you might feel it is all in vain, or too little, too late. You might also feel that Ramaphosa can do all he likes, this is the ANC's doing. I know that in our country we vote for parties not individuals, but I have argued before that parties largely take on the traits of their leaders. Nelson Mandela's ANC was not the same as Thabo Mbeki's ANC, much to the chagrin of the trade unions and South African Communist Party. Similarly, Ramaphosa's ANC is different to Zuma's ANC.
I have no problem voting for the Cyril Ramaphosa ANC. I support the president's clean up. I am prepared to give him five years to continue the clean up and show us what else he can do.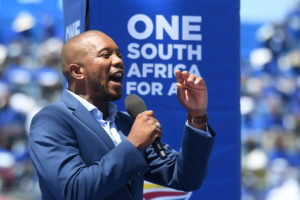 You might disagree and opt for the DA under Mmusi Maimane or the EFF under Malema. I cannot go there. Firstly, while I think at least 70% of the DA's policies mirror that of the ANC, I choose The Buffalo over Maimane, and I would never support a party that plans to nationalise everything and model us on a failed state; that's Venezuela if you weren't paying attention to Malema, Floyd Shivambu, Mbuyiseni Ndlozi et al.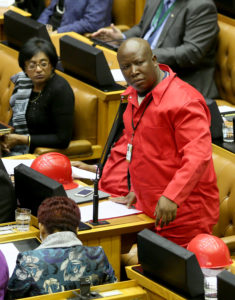 Further to that I don't think men in their 30s should be presidents anyway. They simply lack experience.
Among the smaller parties I very much like the look of the Capitalist Party of South Africa. I really could vote for them, but that is provided I am not happy with President Ramaphosa's clean up operation five years from now.
So for now, all I am going to say is Thuma Mina!