You can also watch my holiday video of our Paris trip here: 
It was the summer of 2019; the northern hemisphere summer at least, and I was taking my wife to Paris to fulfill a long dream of hers to visit the City of Light. It was to be a 10-day trip and given our experience of Istanbul the year before, we knew it would be best not to journey too far outside of the city since there was sure to be loads to do.
After we put our bags down on our fourth-floor room at the Grand Hôtel Lévêque, we were on our way out for the first bout of sightseeing. First stop was of course the Eiffel Tower. What a wonderful construction it is and not even the dark clouds dominating the Parisian skyline could take away from the awe of the moment. We debated whether to go up there or not, but in the end decided that the panoramic views from the Arc De Triomphe and the 210-metre high Tour Montparnasse would suffice since you can't actually see the Eiffel Tower from its top, can you?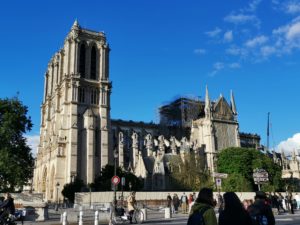 Then we went to see Notre Dame, which had recently been damaged in a fire. I was so upset a few weeks prior when I saw the news on the television knowing that we were soon going to be there, and that the grand old lady would not be the same. You cannot go inside for now, but it was still a marvel to behold this magnificent cathedral. On the way to Notre Dame we also looked on in wonder at the Église Saint-Leu-Saint-Gilles and Saint Jacques Tower, not to mention the Hôpital Hôtel-Dieu AP-HP and Palais de Justice de Paris.
That was not a bad introduction to the French capital. The next morning we started at the Musée de l'Armée, which was very near to our hotel. It's a delightful museum full of French military history and plenty of artwork depicting the revolution, the Napoleonic years as well as the two world wars. After that we stepped into the Église du Dôme which houses the Tombeau de Napoléon. I have to say, you'd think he was a god with the way they have gone out of their way to make his casket and burial place so extravagant.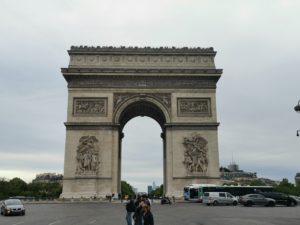 We took pictures of the surrounding statues – there are statues and monuments all over Paris – and then took advantage of our 48-hour ticket for the Hop On/Hop Off bus. We just enjoyed the scenic drive knowing that in the coming days we would come back to visit several of the places we passed. The bus eventually turned into the famed Avenue des Champs-Élysées and we got off near the Arc De Triomphe. It was quite a climb to get to the top – no elevator – but we were happy to have made the climb and get the panoramic snapshots as alluded to earlier. After dinner on the Champs-Élysées, we realised we had missed the last bus back to the hotel. No problem though, thanks to a little thing called Google Maps, we negotiated our way home via the Paris Metro. I love underground subways so I was very happy to hop on board the train.
The next day started at the world famous Musée du Louvre.  It is the most visited tourist site in the world.  As excited as I was, I was also dreading the queues. However, there was not much of a queue – frankly the kind of thing you might expect at Monoprix really.  After taking plenty of pictures and videos of the outside of this magnificent museum and the beautiful pyramid and its fountain, we made our way inside. The paintings and sculptures we saw included the Roman emperors Tiberius and Titus, the Egyptian god Horus and goddess Isis, Greek goddess Diana, Roman goddess Venus, Lady Alston, La Nymphe De Fontainebleau, D'Aïn Ghazal as well as La Vénus de Milo and the Mona Lisa.
After the thrilling Louvre experience, we took a break by resting in the gardens opposite the Musée des Arts Décoratifs, which itself is opposite the Louvre. There a horrible incident occurred. Bird droppings landed on my thigh. I was mortified. The only consolation – if there is such a thing – was that it landed on my denim shorts rather than my skin. I was grateful that Ntando had her trusty wet wipes with her to help ease the horror of the situation. Unbelievably there would be two further incidents of this nature. In 35 years a bird had never pooped on me. Now it's happened three times.
We made our way round the block; the Louvre is a huge building, and took in the sights of the Seine River and the Institut de France before we finished the day at the Tour Montparnasse.
Day Three began with an excursion to the beautiful town of Versailles. It's about a 45-minute train ride out of Paris. We loved the look of this town and arrived at the Château de Versailles where we were met by a long queue. As it turned out that was just the queue to get into the general area. Then there is another queue to actually get into the palace. This was a two-and-a-half hour snaking line that was only tolerated on account of it being a likely once-in-a-lifetime experience. That said by the time we got inside the actual palace my patience had significantly run out to the point where all I really wanted was to see the Hall of Mirrors and leave. Make no mistake the palace is stunning but after that marathon queuing session, the fact that there are still hundreds of people inside the palace, and it is difficult to actually move, really does take away from the experience. Even once inside the Hall of Mirrors any opportunity to simply admire the magnificence of it all is diminished by the sheer number of people. I told Ntando afterwards that I would gladly have paid double or even triple, or even €100, if we could have had the place to ourselves.
When we discovered that we would have to pay extra to enter the palace gardens, on account of a musical taking place that day, we had just had enough and turned around to exit.
That said the walk around the town of Versailles was lovely and we really did enjoy the beauty of the Cathédral Saint Louis and Hôtel de Ville.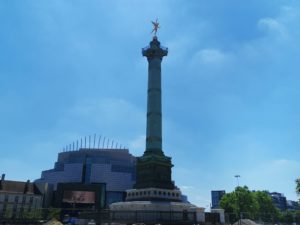 At the beginning of the next day, we found ourselves at the Place de la Bastille. As an avid history buff I was loving this. I had already ticked off the Louvre, Versailles – especially the Hall of Mirrors, and now the Bastille, although the actual prison is no longer there and instead there is a large monument that towers over the 4th and 11th arrondissements (suburbs or districts). We journeyed down the Rue Saint-Antoine and discovered such delights as the Temple du Marais and Hôtel de Sully, together with its pretty gardens or jardins at which point you exit and come across the Place des Vosges, a lovely little public park complete with fountains and a statue of Louis XIII.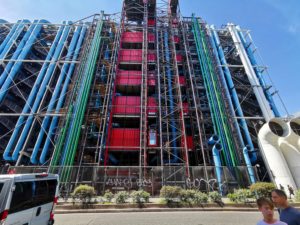 We simply enjoyed walking the streets of the 4th arrondissement and even helped ourselves to a giant falafel each before taking a snap of the Paroisse Saint-Paul Saint-Louis and hopping aboard the metro to our next stop, which was the monstrosity that is Centre Pompidou. This curiously designed building looks to me like a giant swimming pool pump decorated with pool noodles and inside there is an art museum, but we had reached the point of the trip where there was still so much to see and do that we opted to simply take a picture of the building, buy some water at Monoprix, and carry on.
Next stop was the Hôtel de Ville – where the Mayor of Paris' office is situated. We walked around its block to enjoy some more scenery of the Seine River, as well as the back part of the Hôtel, and also caught a glimpse of the Église Saint-Gervais – another beautiful example of the gothic architecture that pretty much defines the churches and cathedrals of the French capital. I was also excited to see the Conseil d'État, which still exists today. It was basically Napoleon's political advisory council in the early 1800s.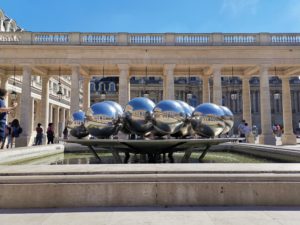 We continued walking and came across the Saint-Germain-l'Auxerrois and Domaine National du Palais-Royal with its forecourt that has some lovely fountains and what appears to be giant marbles as decorations. The accompanying Jardin du Palais Royal is also very pretty. It is worth pointing out that all of this was taking place on a scorcher of a day in Paris. It was around 30 degrees and Ntando and I were happy enough to do a lot of walking provided it was mostly in the shade but we had had quite enough and retired for the day to the comfort of the air-conditioned hotel room.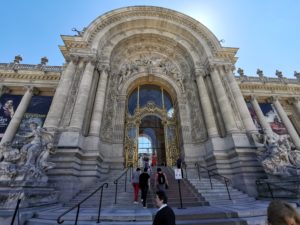 The following day was similarly hot but we were happy to explore and get our steps in. First stop was the Grand Palais and the Petit Palais. For my photo gallery collection, I took lots of snaps of the monuments and statues, including the Simon Bolivar statue, on the Port Alexandre III bridge, as well as the Eiffel Tower in the distance. We decided to go inside the Petit Palais, mostly to just get away from the blistering heat and enjoy some coolness for a half hour or so.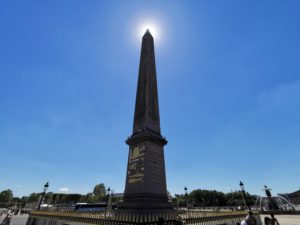 From there we made our way to the Place de la Concorde to marvel at the Obelisk of Luxor and Fontaine des Mers. There was a large parade of cyclists that went by and we suspected that this might have been a gilets jaunes (yellow vests) protest on wheels but could not confirm. We actually did go in search of the gilets jaunes but disappointingly could not find any of them, even though we deliberately went to the areas they were supposedly likely to have been. There is also a great shot of the Champs-Élysées from the Place de la Concorde. You can see all the way down to the bottom of the great avenue where the Arc de Triomphe stands.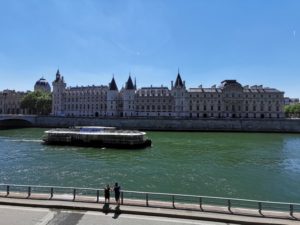 Next stop was the Conciergerie where Marie Antoinette was once imprisoned. To my great disappointment there isn't an actual cell where she alone was kept but instead a collection of cells. Oh well, at least we caught a glimpse of the Fontaine du Châtelet nearby, which is basically three sphinx-like statues spewing water from their mouths. Next to the Conciergerie is the Palais de Justice de Paris and the Saint Chappelle. We crossed the Boulevard du Palais to take lunch at the highly recommended Brasserie Les Deux Palais, where we were served the most delicious Quiche Lorraine.
After that delicious lunch, we trekked across town to see the magnificent Sacré-Cœur. It is a gorgeous cathedral on a high hill overlooking Paris – another beautiful panoramic view, but the beauty of the building itself surpasses the view from the top of the hill. I managed to talk Mrs Stemmet into one more stop before we headed back to the hotel. Remember it was another hot day and it was taking its toll but we had to go past the Moulin Rouge, didn't we? We did not actually go inside but it was worth just going past and taking a picture. We also got a snap of the Monument to Maréchal Moncey, which stands very near to the Metro station.
Our next day trip outside of Paris was to Fontainebleu. I was particularly looking forward to seeing the Château de Fontainebleau, and it did not disappoint. I actually enjoyed it more than Versailles as there were about 90% fewer people inside the palace and there was no real queue to get in either. It made the whole experience so much more enjoyable. It was an experience that may not have happened though after Google Maps had let us down for the first time on this trip.
There was initial chaos as we could not find the right train to board to take us to Fontainebleu but thankfully we eventually did get on the right train, having bought tickets at the station that no one ever checked and upon reflection, may very well never have actually needed anyway. At least we did the honest thing. Our train stopped at the Fontainebleu Avon station but Google Maps indicated we should get off at the following station, Thomery. Upon getting off at Thomery and checking which way to go, it turned out that the Château de Fontainebleau was an hour's walk away. There was not a taxi or bus in sight and thankfully it was only about 19 degrees with a tiny bit of drizzle about in places so Ntando was happy to do the walk but it meant that we had to negotiate our way through a forest. I must admit it had a Blair Witch Project feel about it but I was confident that we would get there successfully. I have confidence in the safety of G7 countries but honestly it really did not look all that dangerous and I would never have suggested it to my wife if I thought there was real danger.
The mere fact that you are reading it, indicates that it all turned out well in the end. There were no incidents outside of some dramatic pieces to camera for Instagram and YouTube purposes.
Ntando wanted to hire a professional photographer to take some high quality photos for her. She did this early on the following morning and since I was not involved, I took the opportunity to go sightseeing. I managed to see the Église de la Madeleine, Jardin des Plantes and Panthéon all in one morning. I was only disappointed I could not go up to the top of the Panthéon, for a highly recommended panoramic view of Paris. It turns out you cannot just go to the top. You are escorted and you stay up there for 45 minutes.  I did not have 45 minutes. I had to get back to the hotel because Ntando and I had a pressing appointment. We had to be at Roland Garros!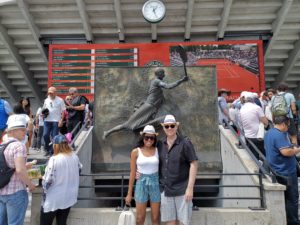 I lamented the fact that I could not get tickets for the centre court – Philippe Chartrier and had to instead settle for Suzanne Lenglen; the second show court. In years gone by all four men's quarterfinals might have been played on the same day, maybe even on the same court and similarly for the women. The format has changed a little and as it turned out each of these two courts had one men's and one women's quarter-final per day for two days. Now knowing how things might get organised, you could figure that you would see one of Rafael Nadal (my favourite), Roger Federer (Ntando's favourite) and Novak Djokovic if you had tickets for Suzanne Lenglen rather than Philippe Chatrier.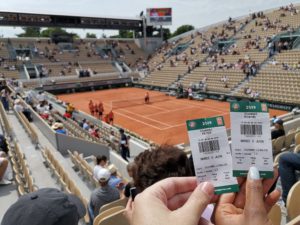 Nevertheless we thank God, not only because we were able to attend our first ever Grand Slam tennis matches, but because it turned out for the best. While Nadal swept Kei Nishikori aside in a one-sided affair 6-1, 6-1 and 6-3, that lasted less than two hours, we enjoyed four competitive sets between Federer and Stan Wawrinka. Federer winning 7-6, 4-6, 7-6 and 6-4 in an exciting, high-quality battle that carried on for more than three and a half hours. What an honour and privilege it was to see the great Federer and a very good Wawrinka play each other. It will certainly go down as one of my sporting highlights.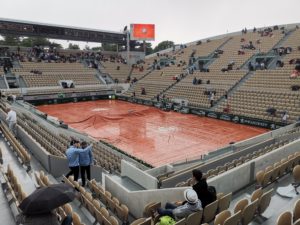 We stayed for the women's match between Marketa Vondrousova (Czech Republic) and Petra Martic (Croatia). The Czech winning 7-6 and 7-5 in exactly two hours. Compare that to the women's match on Philippe Chatrier between Sloane Stephens and Johanna Konta that lasted only 1 hour and 11 minutes (6-1, 6-4 the score) and I think we can safely say that we got far better value for money with our tickets on the day. There was even a rain interruption that added to the whole experience and also helped cool things down as it was steaming at one stage.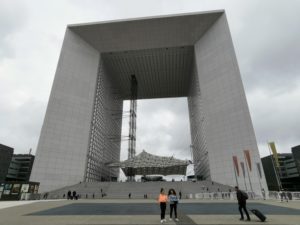 Ntando was up again early the next morning for a photo shoot while I made my way to the area of La Défense in the western part of the city. It was there that I admired the Grande Arche de la Defense, which is surrounded by a very modern business district; certainly out of place among the centuries-old buildings we had mostly encountered until that point. From there I made my way to the Parc des Buttes-Chaumont – a gorgeous public park full of beautiful flaura. There was also the pretty Marie du 19e Arrondissement town hall across the road that I stopped to take a picture of.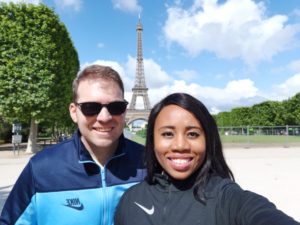 We were off to Roland Garros for a second day but this time the rain had the final say. The entire day's play was washed out and our final day in Paris was pretty much defined by the rain. We did go back to the Brasserie Les Deux Palais for one last Quiche Lorraine. And that was the end of our trip. Before departing for the airport there was one last visit to the Eiffel Tower for a last picture before it was time to say au revoir. We really did have a lovely time in Paris and highly recommend it.
All photos courtesy of Peter and/or Ntando Stemmet