You can also watch the holiday video version of this story here: 
We had been told by friends and colleagues that Kuwait was not worth seeing. "There's nothing there" was what one person said while another asked in horror, "Are you going there on purpose?" Well Ntando and I want to see as many different countries as possible.  Given the current diplomatic blockade of Qatar (as at December 2019) direct travel to Saudi Arabia, Bahrain, the United Arab Emirates and Egypt is out. Factor in that I work for Al Jazeera and even indirect travel to those nations might not be such a hot idea.  We have already visited Oman and Jordan since moving to the Middle East and with wars currently being waged in Syria, Iraq and Yemen, those can easily be discounted.  The only other nation in this neighbourhood, Israel, brings its own diplomatic challenges so that left Kuwait; a small country that is just one hour's flight away – perfect when travelling with a pregnant wife.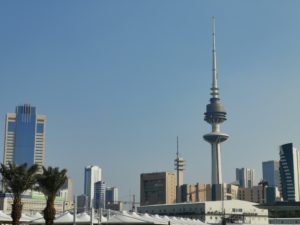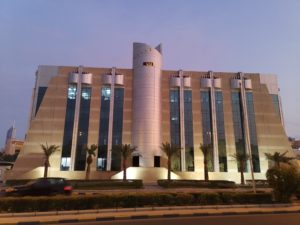 Now we firmly believe that any place really is what you make of it. If you want a pub on every corner then most Gulf countries are not for you. If you want sea and sand adventures, then the Gulf is a great place. We flew into Kuwait City determined to see what we could find and indulge in.  After settling in at the Radisson Blu hotel we made our way to the centre of the city.  An actual CBD is hard to pinpoint since the largest buildings are not necessarily clustered close together.
We picked the Liberation Tower as our starting point.  It began construction before the Iraqi invasion in 1990 and completed construction after the war hence it was named what it was, as opposed to something like Kuwait Telecommunications Tower, or something similar. It was obvious that we were not in a nice part of town though with it clearly being the older, less upmarket part of town where the country's many minimum-wage expat labourers dwell. Hardly a tourist hub.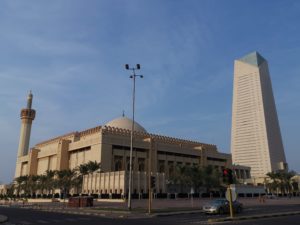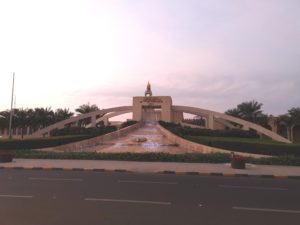 After walking a few blocks we came across the Grand Mosque of Kuwait, which was an impressive structure in the shadows of the Kuwait Central Bank's tall building.  Down the road from there we found the Abdullah Al Salem Houses and Al-diwan Al-amiri which is basically part of the royal palace compound although we did not fully realise that just yet. We did find a delightful little café with cute décor, decent food and a nice atmosphere.
If you are in Kuwait City, The Grove Restaurant and Café comes highly recommended. The sun began to set and we took a drive through the city to admire the lit-up buildings before returning to the hotel and relaxing. The second day in the Kuwaiti capital started at The Scientific Center.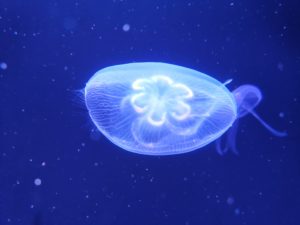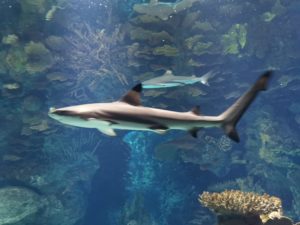 This enjoyable venue consists of an aquarium, the Discovery Place and an Imax theatre.  We were too early, or late depending on how you want to look at it, for an Imax screening and the Discovery Place is mostly aimed at children where they can have fun with several science-based games and toys.  The aquarium was a joy for us. We saw several species of fish including sharks, rays, seahorses and clown fish. There were some penguins too and curiously also bats as well as an utterly unnecessary python.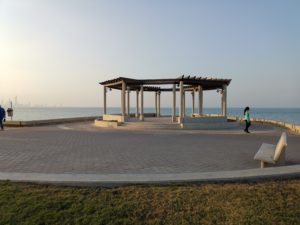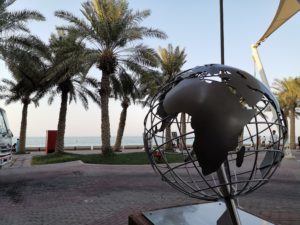 From there we walked along the seaside promenade known as the Marina Crescent. We both very much enjoy walking and if anyone tells you there is nothing to do in Kuwait City I'd tell them you could walk along the Marina every early morning or late afternoon for a relaxing and refreshing experience. I love seaside promenades.  We stopped at a place called Prime and Toast for a late lunch/early dinner overlooking Kuwait Bay before getting more steps in along the Marina Crescent.  Admittedly we tired somewhat so hailed a taxi to take us to the Kuwait Towers, which by now were lit up with it being twilight and all.  The Kuwait Towers are a set of tall buildings with large spheres in the middle area.  It's unique and worth a look.  You can also go up which we would do the next day.  While the view from that height is as good as you might expect, the windows are rather dirty so the view is somewhat spoilt and the ability to take any nice pictures from there is severely curtailed.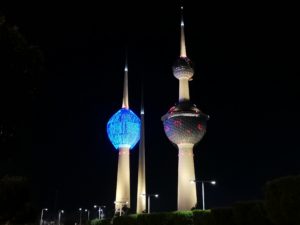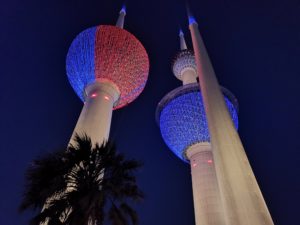 The next morning we set off exploring more of the capital but we realised we badly needed a cap or a hat. Yes, we foolishly forgot to pack any.  After purchasing a cap in the middle of the city at a place that claimed it was having a 75% off sale (which of course it wasn't) we walked past the Holy Family Cathedral.  The temperature was getting the better of us, so we hailed a cab to take us to the Memorial Museum.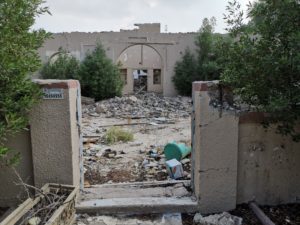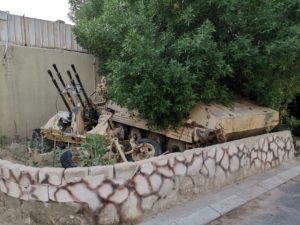 I was particularly looking forward to this as the Gulf War is something I am very interested in. I anticipated several displays documenting the Iraqi invasion, the Kuwaiti resistance and the American assistance in liberating this small nation.  Alas, all we found was three buildings next to each other resembling houses, or what used to be houses.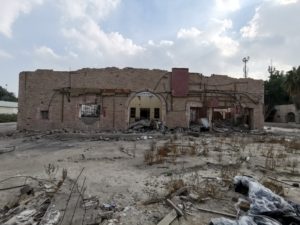 There was more rubble than anything else with a tank and another apparent army vehicle parked in the front lawn of the building that had a "Memorial Museum" sign on it.  Not exactly "nothing to see" but a massive disappointment at hoping to explore a war museum only to find what looks like a place that was part of a war and was never rebuilt.  What made it worse was that this place is listed as a place to see on Kuwait's tourism website, just like the Kuwait National Museum, which was another colossal letdown.
We arrived there only to find a large building that looks like a museum from the outside, equipped even with a planetarium, only to find it is in fact an empty building.  It seems it is not actually ready to be opened to the public yet and not as in it will be ready in a few weeks, but as in there aren't even any displays or artefacts anywhere yet.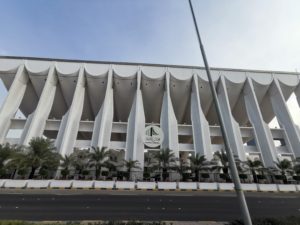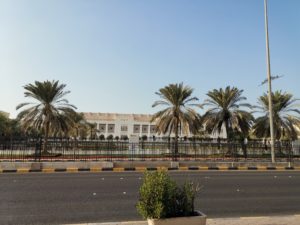 We comforted ourselves with a good view of the Liberation Tower from there as well as getting some pictures of the nearby National Assembly and the Sief Palace, which is opposite the National Museum as well as the Kuwait National Library.  We didn't go in but had to wonder if they were indeed open.
The Sief Palace is where the royal family lives and there is also a house there for the prime minister. We also noticed that there are pictures and murals of the Kuwaiti emir Sabah Al-Ahmad Al-Jaber Al-Sabah all over the city. Several buildings were decorated with his image or likeness.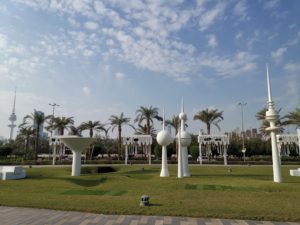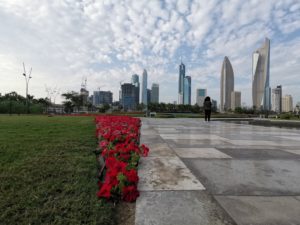 Day Four started with us at the Al Soor Gardens and Al Shaheed Park.  The two together effectively form botanical gardens in the middle of Kuwait City.  It's cordoned off sufficiently to give you a peaceful and tranquil experience while also being able to see many of the city's unique architecture.  We enjoyed our time in these gardens and even found (another) Memorial Museum, except this time it actually was a museum that documented the Gulf War. I was ecstatic. To be honest it was not the greatest of museums but at least I found something that I could consume with a degree of satisfaction.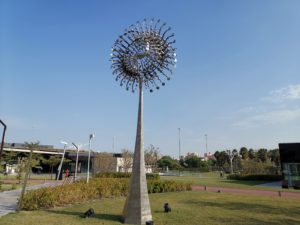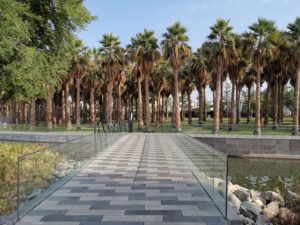 Unfortunately this concludes the part of the trip that was enjoyable. Things were about to take a turn south.  The day before provided a preview when we arrived at rubble masquerading as a museum and an empty national museum. This time around we made our way to a place called Green Island where quite frankly there is not much going on. It's a small peninsula that can be walked in about 30 minutes.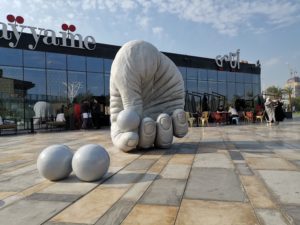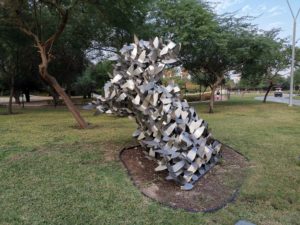 You pay KWD1.5 to enter and will be offered rental bicycles. Our plan was to have dinner on Green Island only to find that the only dinner dates taking place there would be courtesy of private picnic baskets. Instead we made our way to a different location. The Marina Waves is a delightful dhow boat housing several restaurants. We were in the mood for Italian and picked Piccolo Milano. The food was decent enough, but the service left a lot to be desired.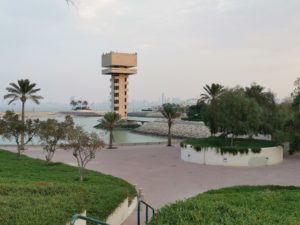 Okay so that was a disappointing second half of the day. It couldn't get worse, could it?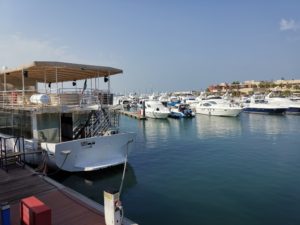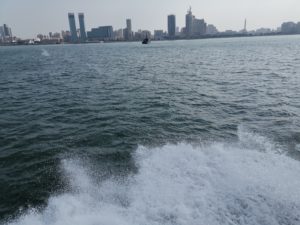 We fancied a boat trip and found what looked like a good deal. For KWD20 we could take a boat to Failaka Island and be treated to horse riding, a lake visit, a 45-minute bus tour of the island as well as lunch before returning via boat a few hours later. Sounds good, right?
Well the boat left about 20 minutes late which is not the end of the world but was setting the tone for what was to come. Upon docking we exited the boat on a wobbly bridge made of plastic with some grip on them. Almost miraculously no one fell into the ocean and made it to the shore in one piece.  While waiting for other passengers to disembark Ntando and I took a seat in the shade. There was no tour guide or coordinator to inform us of where to go or what to do next. Naively we waited for such a person to arrive; possibly the captain of the boat that just brought us to Failaka Island. Oh no. Instead I walked around the corner after spotting what looked like it could be a bus. The driver saw me and gestured impatiently for me to hurry up and get on board. Okay.
A very short drive then took us to the entrance of the Cultural Village. We got off the bus and again there was no guide, no coordinator, no information. What was going on? Ntando and I took it in our stride at first and went walkabout.  After a bit of what felt like stumbling around in the dark, even though we were in the middle of the day with the sun at its highest, we came across horse stables. Despite the staff speaking very limited English, horse riding did actually take place. We felt like we had ticked a box.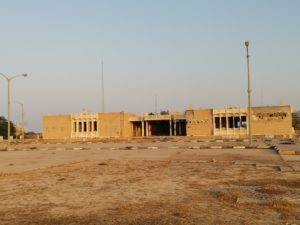 Then we we decided to have lunch. Well of course we didn't know where to go so we started asking around. We found one restaurant and were told that they are not the restaurant that comes with the deal that we purchased. We were sent in a different direction by the manager who made it seem like it was the easiest place to find. Well that resulted in more confusion. After following his directions, we ended up in a large open space.  I found what looked like a restaurant kitchen and asked for assistance. These guys sent us in a different direction. We walked and it looked like it could be a hotel. We figured that perhaps our lunch would be at this hotel. We walked in through the front gate and only saw rooms. I saw two people leaving their room and asked for help. The one man said he would show us as he was leading his friend along. His blind friend that is.
We were shown which way to go and after going around yet another corner we found a café with a locked front door. What now? Oh, there on the right seemed to be a restaurant. At this point Ntando needed the loo and while I waited, I saw at least six blind people walk past me. What was going on?
After the wife's call of nature, we walked up to the restaurant only for the security guard to refuse us entry. In his very limited English, he explained he could not accept our ticket and we had to go to reception to trade our ticket for a restaurant voucher. Can you believe this? The first thought I had was "Where the hell is reception?"
We backtracked to where the bus had dropped us earlier and by entering an unmarked building encountered a reception area. I traded our ticket for a meal voucher before asking if there was any way we could get an early boat off this island. "No", was the gut-wrenching answer.
After lunch, which was fairly decent in fairness, we still had about three hours before we could get off this hellhole. Ntando and I decided to walk around Failaka Island in the hope of seeing something nice. Instead all we saw was abandoned and/or never-occupied houses as well as empty plots of sand. We wondered why anyone would want to live here. We pondered why anyone would want to come here. We were puzzled at how anyone could have the audacity to market this place as a tourist destination.
At 18:30 our boat left the island and we were on our way back to Kuwait City and not a minute too soon. The wife and I both agreed it was our worst-ever day trip and it is likely that in future Failaka Island will represent the lowest possible standard for tourism in the Stemmet Standards Index.
In fact, our experience was so devastating that we called off a proposed private boat ride around Kuwait Bay with the same boat operator, Ikarus, for the following day; our wedding anniversary.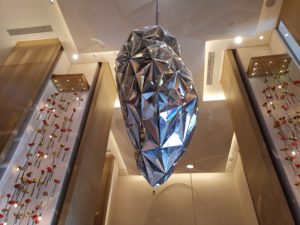 Instead we spent our sixth wedding anniversary enjoying the amenities of the Four Seasons Hotel. We had moved there for the final two nights of our stay and it was a considerable upgrade on the Radisson Blu. How we had wished we had stayed there since the very beginning.
The only remaining excursion was visiting The Avenues Mall, the largest mall in the Gulf supposedly. Although we could see it was massive there was nothing special about it and after a purchase or two, we left after staying for just about two hours at most. We had problems getting a taxi with the haling app Careem as there was heavy traffic around the mall so we took a regular taxi. The driver mistook us for naïve Europeans and tried to charge us KWD5 for a ride back to our hotel. Careem cost us KWD2.7 on the way to the mall earlier so I negotiated the driver down to KWD3.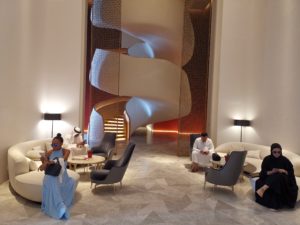 Dinner at the hotel was lovely and we enjoyed our anniversary in peace and with great relaxation before rising early the next morning to head to the airport and fly back to Doha.  The only thing we didn't get to do was a desert dune bashing session but I was not keen on that given that I have a pregnant wife.
How would we rate Kuwait? It is nice for a couple of days with some interesting architecture and a few things to do but then you have to say thank you and go home.