You can watch our holiday video here: 
It is almost legendary how folks tend not to explore their own neighbourhoods.  How many people do you know who have been to the most exotic locations, but have never seen the best parts of their own city or country?  This generally extends to neighbouring countries.  In 33 years of living in South Africa I have only visited two of the six neighbours; Namibia and Zimbabwe.  Ntando has a better record but it's also not much to write home about.  She had not yet been to Namibia, and I had, so I decided I was taking her there.  Even I had only been to certain parts so this was going to be an adventure for me too.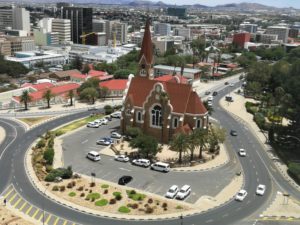 We landed at Hosea Kutako International Airport some 40 kilometres east of Windhoek. After collecting the rented vehicle, we made our way to the capital. I was wary of the danger posed by animals, especially antelope, leaping in front of our car. The lights of the car cause shadows and bucks are fearful of their own shadows and so leap for cover.  It might sound amusing, but many people, and indeed animals, have lost their lives.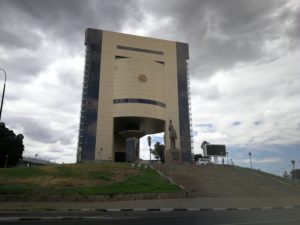 The woman who stayed up to greet us and welcome us at our guesthouse was in a bad mood and while it was disappointing I did not think too much of it since I figured she had probably already gone to bed, or wanted to anyway, and was ordered to stay up later than she would have liked to cater specifically to us.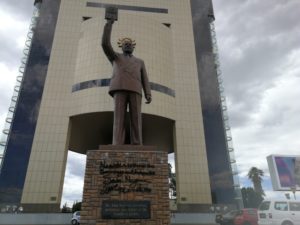 I was wrong.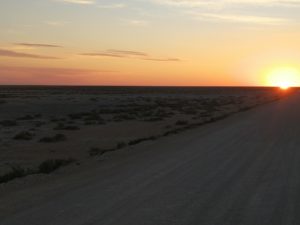 At breakfast, this woman was present again and exhibited the most miserable and sour facial expressions and attitude. It was truly awful having to be served by this person who evidently had zero interest in doing this job. I really hope the Okavango Guest House will give their staff a talking to when it comes to customer relations. For the record, this woman's colleague, allegedly her mother if breakfast room talk is to be believed, is equally rude.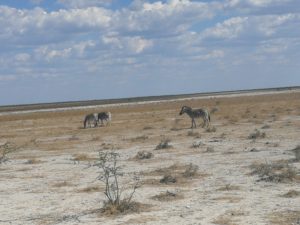 Unfortunately, we found that to be a trend throughout Windhoek. People in the Namibian capital were almost without exception very miserable and wholly uninterested in helping, regardless of whether it was their job to do so or not.  We enjoyed the pretty old Christuskirche (German church) in the central part of town and then went across the road to the Independence Museum where we went upstairs to get panoramic views of the city.  This is something that is encouraged and the restaurant at the top only asks that you make a purchase to go along with your snaps and video-taking. Well according to their staff, we were behaving inappropriately because who would come into someone else's house and just start taking pictures? That is actually what was asked of Ntando.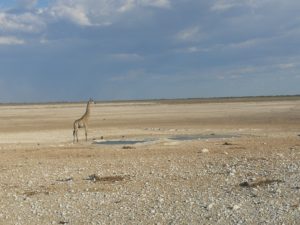 The service was slightly better at Joe's Beerhouse where we enjoyed lunch. I devoured a delicious kudu loin steak while Mrs Stemmet helped herself to a 'Namib Bush Fire'; Springbok, kudu and oryx loin cuts, served with a red wine sauce, straw potatoes, a tot of Cactusblitz and fresh vegetables.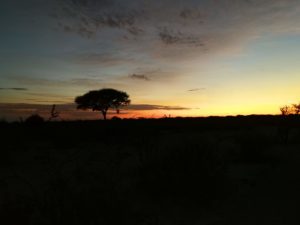 I had no expectations at all of Windhoek so it was a nice day out really and not much more than that. It did surprise us that the city is more of a town really and has very little in the way of high-rise buildings. We tried to find them, but they're just not there. I personally got quite a kick out of the street names – many of them are named after heads of state that were sympathetic or helpful towards SWAPO (the liberation movement) pre-independence. Driving around you'll find names like Robert Mugabe Avenue, Fidel Castro Street and Dr Kwame Nkrumah Street, and of course the obligatory Sam Nujoma Drive.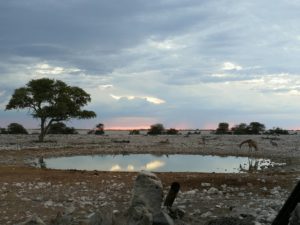 We were in the car nice and early the next morning for the four-and-a-half hour drive up to Etosha National Park.  Namibia's road network gets the job done but the early civil engineers clearly never imagined needing more than one lane in any direction in most parts. Getting stuck behind a truck on the B1 out of Windhoek is not ideal but you get by. The first major centre we went past was Okahandja. This brought back memories of Dynamos (Pep staff members) calling in to request their favourite songs when I was a presenter at Feel Good FM; the company's in-house radio station. We had an enthusiastic bunch in Okahandja who used to call in with their song requests and dedications.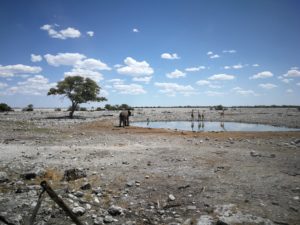 Next was the fabulously named Otjiwarongo – by far our favourite town or city name on this trip, and possibly the world! We stopped there to fill the tank. I had decided beforehand that whenever the needle dipped below the halfway mark we should try to fill at the next opportunity because we were in a vast country where towns are very far away from each other and it would not be wise to risk waiting for the next petrol station, which could be 500 kilometres away.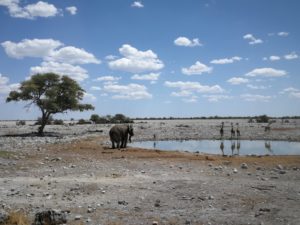 After that we passed through the town of Outjo. We initially imagined it to be a little one-horse town but as we entered and drove, and drove, and drove some more, we discovered there was so much more to it. It's not Istanbul, but it's certainly worth a stop.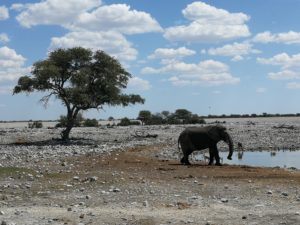 Not much more than an hour later we were at the entrance gate to Etosha. I was so excited. At school we were taught about our neighbouring countries, and the country's national park was something that had emphasis put on it. I had been wondering about this place since 1995 truth be told.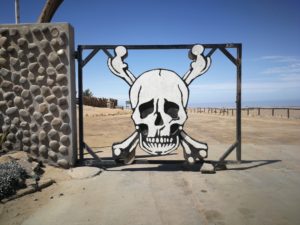 Well, I need not wonder any longer, and neither do you. Etosha was a spectacular disappointment. I booked a waterhole chalet for us and unfortunately the fancy-sounding name is instead just a literal description of what it is. The chalet itself was small with what I would describe as an open-plan bathroom. In other words, after a shower, the toilet seat and bathroom floor will be under water. You might read this and think I sound like an elitist city slicker who has no place in the outdoors. Perhaps, but it is precisely for that reason that I booked a chalet and not a vacant piece of land where I could probably unsuccessfully pitch my fictitious tent.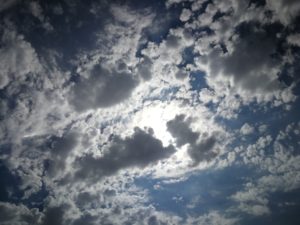 The waterhole did offer up some gorgeous sunset views if sadly not too much in the way of animals. We went on two game drives and we were told by the rangers that it had been very dry this past season and so the animals are not as easily spotted. Well, Mrs Stemmet did spot a leopard – my favourite animal! I had never seen one in the wild before and I swear just those 10 seconds alone before the big cat turned around to disappear into the bush, made my game drive. We also spotted one elephant, one lioness and one rhino among herds of springboks, kudus, impalas, wildebeest and giraffes. Not to mention several bird species. While the leopard was a highlight of note, the overall experience was a real letdown.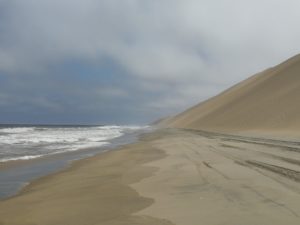 Food comes at an additional cost and it is quite costly and sadly what they take from your pocket, is not made up for at all on your plate. It actually hurt me a tad to be leaving Etosha with such a negative opinion of the place. Or maybe I need to go find Mr Jurgens and have a serious heart-to-heart about what he told me about Namibia back in Standard 4 (Grade 6).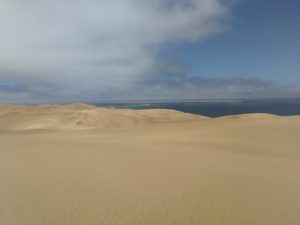 The next morning we were up early for the long journey to the Skeleton Coast. This was another one that we had been taught about at school. It is a vast desert-coast area with rough seas and winds which resulted in several shipwrecks and deaths in the old days. Shipwrecks and even skeletons can still be seen to this day, we were told. The Namibian tourism website confirms this so we were excited to see what we could find out there.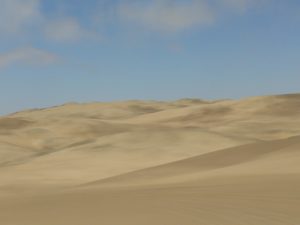 Well we encountered a dodgy dirt road for most of the journey, but I will say that it is unlike anything we had seen before. That does not necessarily mean it is beautiful; it's not, but it is unique and has its own appeal. There really is nothing but sand and sea, and we drove for many a mile without seeing any trace of life until we found Torra Bay. Ntando was mortified. It appeared to be about 15 independent rooms with a separate building that was seemingly the reception area. There was also a large water pump and what looked like it might be an outhouse. We were not staying there though. A further 45 minutes up the road is Terrace Bay and that was where we would be spending the night. It is a considerable upgrade from what we had seen a little earlier. We arrived in the nick of time too as our petrol gauge had by now dropped to the quarter-mark. We filled up and were ready to go again.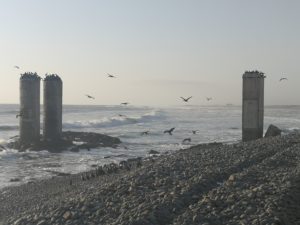 Terrace Bay is a pleasant fishing resort. There are about 20 chalets, a restaurant that serves gourmet food in comparison to what we were served at Etosha and a games room with a pool table and tennis table. If you're not into fishing, then apart from admiring the view of the Atlantic Ocean's waves crashing against the rocks and of course the sunset, there is not much to do but at this juncture it was the best part of our trip hitherto.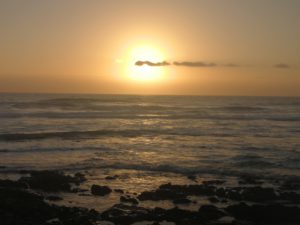 Swakopmund was the next destination but we would go via Henties Bay where we stopped to visit with my Aunty Eileen and Uncle Jon, whom I had not seen in more than a decade. The drive itself was nice enough but it was lovely to just spend some time with family and catch up again after such a long time. As is the nature of these things, there is simply just never enough time.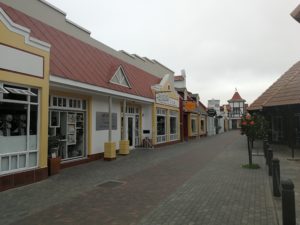 We loved Swakopmund. This town's German influence is there for all to see. The quaint parts of the central part of town with its old German-style buildings, really does make it look like a small German town from about 120 years ago. We had the whole day to ourselves and so spent our time walking up and down the CBD and admiring the prettiness of it all. We also enjoyed lunch at a wonderful seaside restaurant, The Tug, which has an old ship as part of its architecture. The aquarium was also paid a visit and although it is very small, that did not stop me from attempting to turn my cell phone camera into an underwater device far more advanced than itself.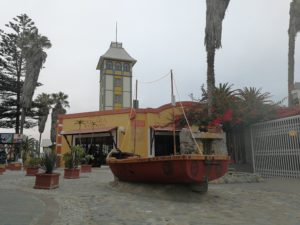 Our last full day in Namibia was spent mostly in Walvis Bay, about a half-hour drive south of Swakop. We made our way to the waterfront where we hopped on a boat and enjoyed an ocean safari. It was not as good as the one we had done in Plettenberg Bay some two years earlier but enjoyable nevertheless as we saw dolphins, jellyfish, seagulls and pelicans, some of who saw fit to come and pay a personal visit on the boat itself. A seal or two also hopped on the boat before the skipper brought us to a peninsula that acts as a seal colony. Because there are no sharks in the area, the seals have no real natural predators and so breed and multiply without hindrance. On the peninsula, a stray jackal was confronted by a trio of his own species who were not impressed at all that he had ventured out of his territory. We did not stay to see the final outcome, but the lone jackal was in big trouble and the bit we did see featured a lot of noise and blood.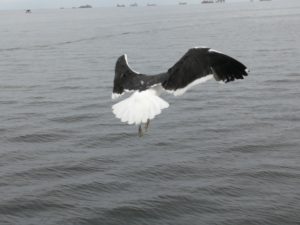 After the ocean safari came a desert safari. We were taken along the coast along a rugged terrain that we would not have been able to drive through during high tide so we were grateful for the lower tide. We saw many flamingos and springboks on this trip and got a thorough thrill out of the dune bashing experience.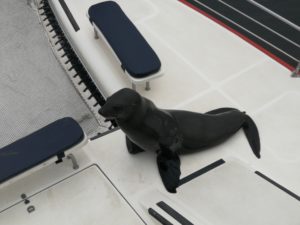 Before making our way to the airport on our final day, we once again drove into the Walvis Bay town area just to see the centre of town and have a late breakfast/early lunch. Our first choice's kitchen had not yet opened so we went to Anchors, a place I had dined at a few years prior. The food was fine but the waitress was keen to give the impression that she was probably a relative of those women at the guest house in Windhoek.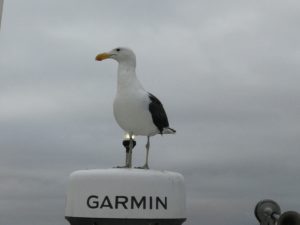 And so we had a good time in Namibia, despite what we were expecting to be highlights turning out to be disappointments and the truth is that the people do become considerably friendlier and more helpful once you leave Windhoek, except maybe in Walvis Bay.