You can view the holiday video version here:
Scotland is simply stunning. Over the next few paragraphs I shall attempt to paint a picture of her pulchritude. Ntando and I agreed that of the places we have visited thus far, Scotland is second only to South Africa in terms of its natural beauty.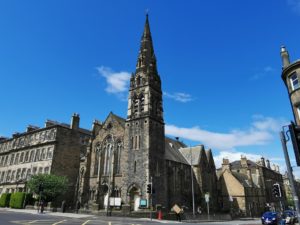 We landed at Edinburgh Airport and after some circling about rather aimlessly, we were on a bus to Princes Street where we would catch a second bus to our Airbnb apartment on Easter Road in the Leith area just outside the city. The bus stop is less than a stone's throw from the apartment's front door so that was very convenient. We would take several evening walks in the neighbourhood where we would enjoy the sights of the Lochend Loch, Leith Links, the Shore and several classic-style cathedrals and statues.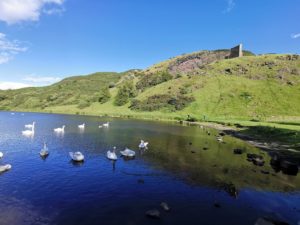 Holyrood Park St Margaret's Loch
For our first day trip in the Scottish capital we took a walk down to the Palace of Holyroodhouse. Sadly we could not go inside as the queen was in residence but that did not stop us from crossing the road and taking a look at the Scottish parliament and then navigating our way through Holyrood Park, climbing up to St Anthony's Chapel ruins, which I hilariously called it St Andrew Chappelle's ruins in a case of mistaken identity. I have a colleague named Andrew Chappelle! We climbed all the way up to Arthur's Seat and took in the panoramic views of the city. Let it be known, that steep climb is not for the fainthearted.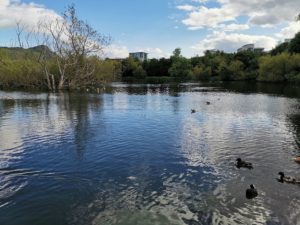 On the way down to St Margaret's Loch, I felt my knee give in ever so slightly. I sat on a bench admiring the lovely loch and its resident ducks and swans and can happily report that the knee just needed a few minutes of rest. I was back on my feet as we made our way back to our side of town.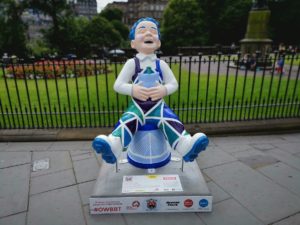 A very friendly local (they all are) helped direct us to a pub/restaurant named Nobles, where we enjoyed a good sticky toffee pudding. So good, in fact, that Ntando only ordered sticky toffee pudding for dessert for the remainder of the trip. The following evening we would venture a little further to the Shore and ate at a lovely place called The Ship on the Shore – highly recommended! That was the best restaurant we dined at in Scotland. The culinary experience was generally a good one as I tried to take in the tastes of the country and along the way ordered a full Scottish breakfast which consists of eggs, bacon, link sausage, toast, baked beans, black pudding, tattie (potato) scones and haggis. I also tried haggis with neeps and tatties for a main meal. There were a few fish and chips experiences with he customary mushy peas too. Cranachan; toasted oats with cream and raspberries, was ticked off and of course I had to try the deep-fried Mars bar. I ended up having three on the trip. I also drank an Irn Bru and I can tell you it tastes best out of a can. Do not drink it out of a glass or a bottle. Trust me on this one.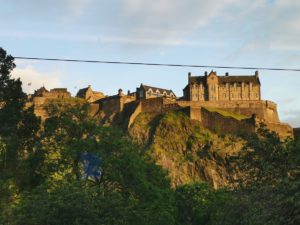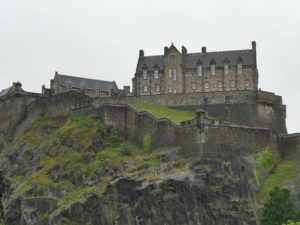 We walked through the delightful Princes Street Gardens before another hike of sorts up to the Edinburgh Castle, which sits at the top of a hill overlooking the city. It was an enjoyable castle tour experience, where we also saw the Scottish Crown Jewels and after that we took a stroll down the Royal Mile, buying a few souvenirs along the way as well as spotting several kilted bagpipe players, who perform for tourists as a way to collect money for themselves. As a free market capitalist, I was very happy to have my picture taken at the Adam Smith statue.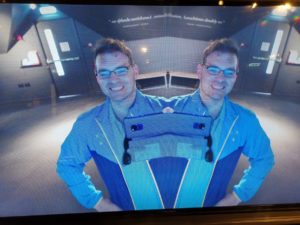 Ntando waited for me as I ventured into the Camera Obscura World of Illusions. This magnificent place is a world of optical illusions and fun. I came back with several pictures and videos of my skeleton, double vision (for lack of a better explanation) and vortexes.
The next day was all about me really and the chief reason we were in Edinburgh. It was my graduation day. I had recently completed my Master of Arts degree in International Journalism for Media Professionals and the ceremony took place at the Usher Hall. I was happy to receive my certificate and enjoy a late lunch/early dinner with my fellow graduates, lecturers and programme leader afterwards. We were joined by our families and I was happy to have my wife with me.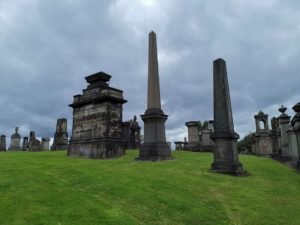 After taking in the cathedrals, castles and monuments of Edinburgh, we were off to Glasgow. It is Scotland's biggest city, but we were able to really make the most of our one day there by taking in some serious sightseeing. If you want to visit museums and art galleries then it is impossible to do Glasgow, or indeed Edinburgh, in a day. But in our case we were just keen on the sights and so in the space of one day we visited George Square, where we saw the Glasgow City Chambers, Glasgow Cathedral, Glasgow Necropolis – and yes we climbed all the way to the top of this mass cemetery, where I was able to spot Celtic Park, McLennan Arch, Doulton Fountain, the People's Palace, Merchant City Clock Tower, Glasgow Royal Concert Hall and several views of the River Clyde. I did not actually knowingly see all of that from the top but we would eventually find our way to each of those, except Celtic Park which was a little further out and besides, Ntando was wearing blue so probably wise not to go into Celtic territory.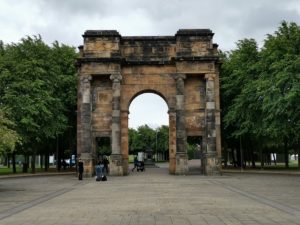 We even had an enjoyable lunch and dinner experience in Glasgow before it was time to hop on a late train back to Edinburgh. We decided not to take an Airbnb in Glasgow, since Edinburgh was about an hour's train ride away and it was more convenient to just stay put in the capital.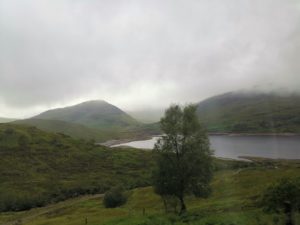 The next day did not go according to plan at all. It was not a disaster, but it was not what we had in mind. Since time was short, we opted for a train ride through the western highlands. We would again trek from Edinburgh to Glasgow and then from Glasgow to a town called Oban, where we would spend approximately two hours before embarking on the return trip. The aim was to see the highlands in all their glory on a train in one day. Or at least as close as possible to that utopian idea.
The train from Glasgow to Oban was a wee late and what followed was chaos. Some seats were reserved, others were not, and it was obvious that no one really knew what was going on. Thankfully we eventually got moving and I was also inevitably moved from my seat by a very panicky woman who had found her seat with her name on it. I was very happy to move as I had simply taken the seat because there was no other realistic option. She was all in a huff and puff and I tried to calm her down by saying it really was not a problem and that I was happy to move so she could take her seat.
Now, I enjoy following our journeys in real time on Google Maps anyway and it was all going according to plan. Then we stopped at a station that had a very different name to the one on Google Maps. At first I thought it was fine because it does happen sometimes that the names do not correspond or there could have been a name change, or perhaps even the app had not updated. But by the time we had made two "unscheduled" stops and the route on the app was clearly different from the one we were travelling, I knew something was not right.
As it turned out, we were meant to change trains at an earlier point. Not that we knew this, were told about this, or heard any announcement to this effect, despite specifically buying a ticket to Oban. Oh well …
It was time for a rethink of plans. This train was on its way to Fort William, purported to be a beautiful tourist town in the highlands. I decided we would get off there, enjoy the town for a few minutes before hopping on the return train to Glasgow, and that is how it turned out. Fort William was freezing, rainy, windy and we were quite happy to be on our way back. The scenery of the trip itself was somewhat spoiled by the rainy, misty conditions as well as the surrounding forests which unfortunately block a lot of the views as you go by in the train.  It was by no means a horrible experience, but it certainly did feel like it was far from our best day.
After that experience, we figured that perhaps the best way to see the Scottish western highlands would be by hot air balloon or helicopter.
The following day was one for relaxing in Edinburgh and I took the opportunity in the morning to go see the Royal Yacht Britannia. This is the vessel that was used by the Royal Navy, but also by the British royal family. The tour of the boat includes seeing the royal family's living quarters. It was very enjoyable.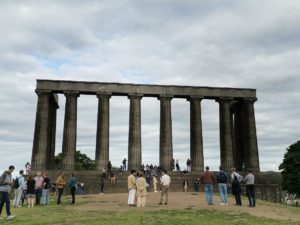 After a bit of shopping on Princes Street we decided to take a walk up Calton Hill to take in the sights of the Playfair Monument, Nelson Monument, National Monument of Scotland and the stunning panoramic views of Edinburgh.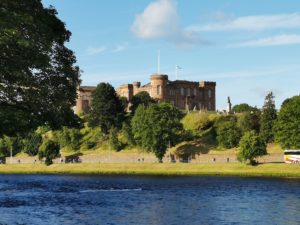 That day of relative rest was followed by our exit from Edinburgh. We were on another long-haul train. This time northbound to Inverness. It's a very nice little city and we took about an hour or so just strolling about admiring Eden Court, St Andrew's Cathedral, St Mary's Roman Catholic Church, the Free Church of Scotland, the Old High Church, the Steeple, and the Inverness Castle, sitting on a hill overlooking the city. The various views of the River Ness are also stunning but we had to get up to the top of that hill which we eventually did and were just in awe at the breath-taking sunset. It was also in Inverness that I decided to order a whisky. I sipped on a Balvenie Caribbean Cask, 14-year-old, from Speyside (basically the Inverness neck of the woods). Its description reads: "Rich with tropical fruit. This cracker is mouth-coating and fruity with superb balance." It was also recommended by the waiter. I figured that since we were in Scotland, a country famous for her whisky, it would only be right to at least try one.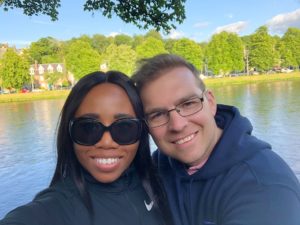 Now I am not a big drinker and I do not care much for whisky. For the sake of authenticity, I sipped it clean before adding ice. A lot of ice. Sadly, it was mostly lost on me. I found it very strong, even on the rocks, and I think I will just stick to Irn Bru in future, but I'm glad I tried it and the truth is that if I am ever in Ireland, I will almost certainly try a whiskey.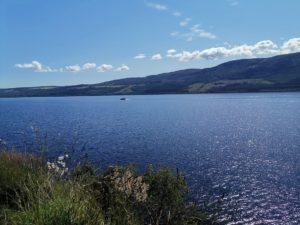 There was not an awful lot of time the following morning before another long train ride back to Edinburgh so we ordered a taxi and our driver, a delightful old man named Ian McLennan, also acted as a pseudo tour guide, offering advice on Scotland, her sights, and a few choice words about the English too. Mr McLennan took us to the Loch Ness. It is simply stunning, and we were so blessed to have a near cloudless sky which helped make for beautiful photographs. It is truly magnificent … and no, we did not see the monster, although we were secretly hoping we might.
Our last night back in Edinburgh was very rainy and so was the following morning so instead of walking down the road to hop on a bus, I ordered a taxi to take us to the airport. It could not however dampen what was a great holiday marked by scenery so stunning, that it makes Scotland a must for any tourist.