About ten days ago I was reporting on a story at Soccer City when Robin Adams, my sports editor, phoned to ask where my passport was. When I told him it was at home he instructed me to fetch it and bring it to the office; we needed to make a copy as I was being sent to Abu Dhabi to cover the Laureus World Sports Awards.
It took until the midnight hour for my visa application to be successful. In fact I was standing at OR Tambo International ready to check in when the email finally came through. After an eight-and-a-half hour flight I was finally in Asia. As it turned out Bakkies Botha and his wife were on the same flight and our contingent was fast-tracked through passport control and we were off to the Intercontinental Hotel.
One of the first things I wanted to do was acquire a local sim card. I was told I could do this at the hotel so did not bother at the airport. As I checked in I was told that the shop would only open at seven in the morning; nothing I could not handle I figured.
After I had unpacked I realised it was around one in the morning but allowing for the time difference my body felt like it was eleven at night and at least an hour before bed time.
DAY ONE
I woke early to shower, dress and go in search of my local sim card. The friendly store assistant smiled as she informed me that they did sell sim cards but that there would only be one available at five that afternoon. There was no way I was waiting that long. After breakfast, which excluded bacon, I thought that it would be a good idea to go and collect my media accreditation at the supposedly nearby Emirates Palace Hotel.
The concierge girl explained that it was a five-minute drive and this stirred up my imagination, "How far is it to walk?" I asked.
"Ten minutes or so."
"Show me how to get there."
And the next thing you know I was walking around the capital city of the UAE. The first problem I was presented with as a pedestrian was the fact that they drive on the wrong side of the road. I was taught to look right first before crossing the road but in the Middle East you need to invert your road acumen. I arrived at the Emirates Palace, a posh hotel that was clearly built with the intention of showing off, and thought to myself that I had swapped Emperor's Palace for Emirates Palace.
After collecting my media credentials I walked back to the Intercontinental and could feel the harsh Arabian sun beginning to flex its muscles. It was around eight-thirty in the morning and it would not be bearable for much longer in spite of spring having just sprung.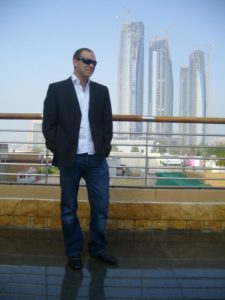 I left a message for my colleagues, Zayn Nabbi and Thuthuka Zondi, who had yet to arrive from Dubai. Meanwhile the sim card was still my issue and I hopped in a taxi to take me to the Marina Mall; written about as a tourist attraction for shoppers on Wikitravel. The reality is that it is nothing I had not seen at home before. I quickly learned that the stores would only open at ten and it was nine-twenty. So what did I do? I walked around the mall.
A burger place that caught my eye was called Fuddruckers. I could not help but wonder if it was a spoonerism.
After purchasing my sim card and waiting an hour for cellular red tape to run its course I was finally connected and when I arrived back at the hotel my colleagues had arrived too. Soon we were all off to the Emirates Palace and the first interview cluster had me all excited. Boris Becker and Monica Seles were there as well as Emerson Fittapaldi. I am hardly a motorsport enthusiast but you have to appreciate what Fittapaldi has achieved.
Becker and Seles were the highlights for me and I would rate the German as the most high profile athlete I have interviewed. Later in the day heavyweight boxing champion Vitali Klitschko was available for an interview and unfortunately his responses to questions are exactly what you would expect from a doctor not a pugilist.
For good measure I got to chat to Natalie Du Toit while Zayn collected soundbites from the likes of Bakkies and Peter De Villiers.
And then as if we were back in Africa the internet crashed. Luckily we were able to establish a connection in time to feed our work to South Africa in time for the news. By the end of the day I stayed and partied with a group of pretentious Europeans who attacked my African-ness but I quickly put them in their place by suggesting we talk about all the great Hungarian warriors from the past. That was the end of that conversation.
What I did notice was how wet, sticky and foggy it became at night; caused by the sea air I was told. While I was befriending people from the First World, Zayn and Thuthuka headed for bed around ten. I thought them to be boring but in the morning would be in for a surprise.
DAY TWO
I arrived back at my hotel room around two-thirty and by six was up. We met in Thuthuka's room to feed material back home for the morning show. The day before Zayn gave me their respective room numbers which I wrote down. Too lazy to check I asked him over the phone where to meet and was told, "Room Six-Oh-Eight." I ambled down from the ninth floor and knocked on the door of room 608. An exotic, dark-haired, olive-skinned beauty resembling Queen Rania opened the door. My heart melted. I fell in love instantly. Then I thought to myself, "Thuthuka, you old so-and-so", but then I remembered that it was illegal in the UAE to be in the same hotel room as an unmarried woman under the age of 30. I panicked. "Wrong room. So sorry," I smiled and rushed away at which point I recalled that it was in fact room Six-ONE-Eight I needed to be at.
After sitting through an extremely enjoyable round table chat with Steve Waugh, Ian Botham, Michael Vaughan, Shaun Pollock and Kapil Dev we also had the privilege of interviewing Fabio Capello and Franz Beckenbauer. Thereafter we rushed to the red carpet as the stars were about to arrive for the Awards.
Name a sporting superstar and they were probably there. There were even Hollywood actors like Hugh Grant and Kevin Spacey who were present. Spacey was in fact the host of the ceremony.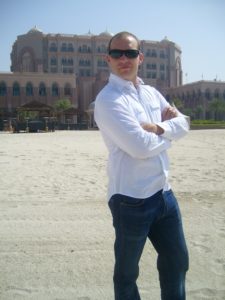 Once the dust had settled it was time to party. Again Zayn and Thuthuka were off early and I could only assume that they had sorted themselves out with unmarried women over the age of 30. At the after party I was dancing side-by-side with Francois Pienaar, Becker and Grant not to mention my new friends from the United Kingdom, Germany, Hungary, Portugal as well as Hong Kong and thought to myself that life could hardly be any better.
I returned to my hotel room around five that morning and was up again at six. I may have snoozed for twenty minutes.
DAY THREE
Zayn and Thuthuka caught the plane from Dubai as they were flying to Durban. As luck would have it my flight from Abu Dhabi to Johannesburg was only at ten that evening; I had the whole day to myself. I was not going to waste it and hopped in the taxi with my colleagues to Dubai.
I was denied access into the medina as I was dressed too casually but from there snapped a few pics at the aquarium before hopping on the free shuttle to the Emirates Mall. Here I encountered a Virgin Megastore which had my eyes wide open as it is not found back home. Lunch was a Swiss cheese and mushroom burger from Burger King and then I was on the metro train across town.
I was dropped close to the Burj Khalifa; the world's tallest building and walked from there. Did I know where I was walking to? No. Did it matter? Of course not. My intention was to see as much as possible rather than do things as I had such limited time.
The vast spaces fascinated me. Back home we are used to tall buildings clustered together with narrow one-way roads in the central business districts. However the cities in the UAE have clearly been built with other purposes. The buildings are tall and futuristic but there is plenty of space for cars to move around. The only drawback is that the cities are hardly pedestrian-friendly but still I walked.
While admiring the space-age structures I looked down and my eyes met with a group of Filipina women. They are easily the largest group of expats. "Hello, how are you?" one asked.
"Fine, thank you and yourself?" prompted her to invite me for a massage at her house which she insisted was not far away. A massage would have been wonderful but I was not in town to do things. I came to see. I politely turned down her offer but I am sure that I would have received more than I bargained for.
After taking as many photographs as possible I was on the bus back to Abu Dhabi. I slept for about an hour on the bus as I could hardly keep my eyes open. When I did wake I saw the sheikh's palace. The only way I can describe it is by likening it to the sultan's palace in the animated Disney film Aladdin. Upon returning to the Intercontinental I went for a swim, dressed warmly and was on my way to the airport.
Bakkies Botha even remarked how tired I looked. I had hardly slept since arriving but I was not there to sleep. I worked hard and thereafter I tried to enjoy myself as much as possible. Before the Etihad aeroplane even took off I had fallen asleep in my seat. The cabin crew member who woke me for breakfast was met with a grumpy, disagreeable response when he told me that they only had vegetarian breakfasts available. Do not ever wake me up to tell me you are going to feed me a celery stick to break my fast. Since I am usually miserable after slumber I threw a mini-tantrum and the next thing you know I had an omelette for breakfast. I was happy.
The only negative aspect was that somehow I managed to lose my South African sim card. Who knows where it could be? Perhaps trapped under the desert sand never to seen ever again.