"Big game, big seats." This will go down as my favourite phrase of the 2010 Fifa World Cup. Those words were uttered by my close friend Martin Myers who I had the privilege of attending two world cup matches with; Argentina versus Nigeria in Johannesburg and the Argentines against Germany in Cape Town. Martin's quote was in reference to our near-perfect seats at the latter match which produced a stellar display by the Germans who managed to rout Diego Maradona's side 4-0. Shortly before full-time Mart managed my second-favourite quote of the competition, "These f*cking Germans!"
By that you may deduce that I travelled somewhat during this tournament. I did. But it almost did not happen. In fact shortly before the Last Minute Sales (LMS) commenced Yours Truly had zero tickets. That is right. Zip, zero, zilch, nothing, niks. That soon changed.
Throughout myself and Mister Myers maintained contact and when the LMS phase opened I had the misfortune of being at the office. My worst fear was that I would not get a ticket at all after Fifa.com crashed that evening to boot. The next morning I was at my nearest FNB and better news greeted me.
After withdrawing the final cents from my credit card (not to mention the already non-existent overdraft) I left the bank with tickets to watch a Last 16 in Bloemfontein and a quarterfinal in Port Elizabeth. How would I get there? How would I survive the rest of the month with no funds in the account? At that moment I could care less. This was the world cup. My favourite sport. My favourite tournament and it was taking place here in my own country. I was going.
Martin was coming up to Joburg anyway for Argentina-Nigeria and I would give him the money when he got here so I went from nothing to three overnight.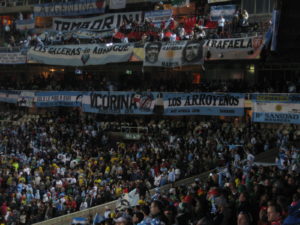 Just a few weeks later (after pay day of course) Martin phoned me on a Saturday morning to announce that more tickets would be available shortly; he had inside information which I am not going to discuss here. I went online and the next thing you know I was going to watch Serbia against Ghana in Pretoria, France play Mexico in Polokwane and South Africa face France in Bloemfontein too. I was on six matches now.
On the eve of the tournament an old friend Brad Bing called me up and asked if I would like to accompany him to watch Argentina play Nigeria. I thanked him but politely declined as I was already going. Well that prompted the dropping of a bombshell, "Well why don't you come with me to the opening game instead then, Pete?" As if I had to think about that one! Seven.
There we were at Soccer City. Myself, Brad, his brother, nephew, Jimmy, Helen (all of whom I met for the first time) plus around 88 000 others packed this magnificent venue for Bafana Bafana's match against the Mexicans that was preceded by a glittering and spectacular opening ceremony. To actually have been there can only be described as a blessing from God because there is no superlative capable of doing the experience justice. And as you can well imagine it was as if a bomb had exploded when Siphiwe Tshabalala hammered in the opening goal of the competition.
Afterwards we made our way to a local pub to watch France face Uruguay and thereafter it was bed time. A big day was ahead of us.
Saturday morning saw me collect Martin (who was dressed like an Argentina flag) at OR Tambo International. As it turned out we had additional tickets. I phoned Manfred (my closest friend up in Gauteng) and told him we had tickets; if he had an extra R1 140 it was his. He did.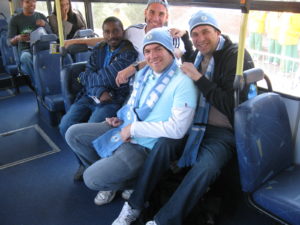 My colleagues Kanyiso and Onkgopotse aka OG aka Own Goal also came along and it was another enthralling experience. We were at Ellis Park but could just as well have been in Buenos Aires at La Bombanera. The Argentine fans were undoubtedly the best of those I experienced.
It was not all over though as Martin and I jumped up like jacks-in-a-box at the Keg when Robert Green committed the goalkeeping howler of the tournament against the USA. We don't like England. The weekend's moment came the next day as I took Martin to Soccer City just to see it. He could not get in though as he did not have accreditation but This Is Africa and a request to the security officer to "hold this" R100 note saw Martin enter and have his pics taken before I dropped him at the airport.
From there I headed to Pretoria to attend Serbia-Ghana before joining Manfred at the Centurion Fan Fest to watch Germany crush Australia. We even got interviewed by German television. I took it upon myself to market our country when they asked if I was surprised at how well the competition had started. I fired back, "Not at all. I always knew we would pull it off. I never had a doubt. It was only the Europeans who thought we couldn't do it!" What a start to the tournament for me. I felt like I was in Heaven.
And then it was back to the office on Monday – the ultimate anti-climax. But by Wednesday I was up and running again. Kandice and Manfred joined me at the Sandton Fan Fest where we watched as Spain succumbed to Switzerland before South Africa were outclassed by Diego Forlán and Uruguay on what was a bitterly cold evening.
The next day Kandice came with me to Polokwane and we watched Argentina dismantle Korea and Nigeria mess up against Greece at the Fan Fest. While this was all taking place I encountered an American who was selling tickets. I traded my lone ticket plus cash for two of his and so Kandice came along to attend her first ever football match. Mexico beat France 2-nil and we were back in the car on the way to Jozi to be back for work the very next day! Madness some may say but this was the world cup and I did not care.
The weekend could not end soon enough. I had to work while there was glorious football action I was missing out on. But by Sunday I was on my way to Bloemfontein for work. OG, Joe and Linge were my colleagues for this trip to what is possibly the coldest place in the country. I had fun while I was there and actually viewed it as a free ride to watch Bafana play France. I saved petrol and the company appeared pleased with the work we did. My favourite moment there was spending time with my family in the City of Roses plus filming a little girl holding a SA flag and an Argentina beanie saying, "Bafana Bafana is ayoba. This is not ayoba. Viva, Bafana Bafana Viva!"
Upon getting back to Gauteng our American intern Whitney was exceptionally excited that her boys had reached the Last 16. The match would take place in Rustenburg and I was off that weekend. I went online and bought two tickets for R700 each. That's eight matches now. But before anything we had a thoroughly enjoyable experience at the MTN Fan Zone where we were entertained by Jené who has a sparkling personality not to mention a fondness for sparkling beverages.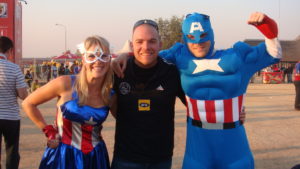 It was Saturday and Whitney (who really is from Houston, Texas; no jokes) and I were going to Rustenburg. After an enjoyable Fan Fest experience, great match vibe and a flat tyre we had to head back to Jozi. I had a match to attend the next day.
Since I had picked Argentina as my team before the competition began I thought it was only right to trade my Last 16 ticket in Bloem (Germany vs England) for the match at Soccer City featuring my side against Mexico, who boast the second best fans in my view. I would save petrol to boot.
And wouldn't you just know it? Brad would phone to invite me to that game earlier in the day. In a moment of dè já vu I had to politely decline before Mister Bing said, "Well how about tomorrow night for Brazil and Chile?"
"I'd love to."
Nine.
And then commenced my world cup road trip. I left Johannesburg on the Wednesday and stopped in Kroonstad to say hi to Brill and Margot before spending the evening at my family in Bloem. An early rise was followed by a 7-hour drive to Port Elizabeth via Graaff-Reinet. It should have been via Cradock but due to road works and road closures I had to do the detour.
An old school friend provided shelter in the Friendly City. Stuart and his wife Kim were fantastic hosts and it was lovely to have spent time with them. I had not seen Stu in a good 11 years. We attended the match (Brazil-Netherlands) together before making our way to the Fan Fest; a rocking jol of note I must tell you.
There I also hooked up with my cousin Bjorn who I had not seen for seven years. It was a legendary evening save for the fact that I could not drink too much. I'll tell you why in a moment. The night before I spent with my aunts and cousins plus stopped over to get spoilt by Ouma earlier in the day!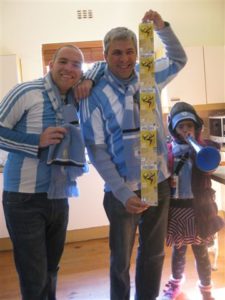 Martin had bought tickets for the Cape Town quarterfinal some time ago and I was on standby to buy one for myself from him. Due to work and budgets I had to wait until the eleventh hour before confirming but ultimately I did and was I not pleased.
Saturday morning at 4:34 I left the Windy City en route to Cape Town, my home town. I do not think 'regret' is a word that could be used in this paper so I am going to say the only moment that was not of pure joy on my road trip was driving through the Knysna-George stretch whilst still dark. That really is one of the most beautiful and breathtaking sights on the planet and it was a pity I could not view it again in all its splendour.
Nonetheless it was shortly after 12 that I arrived at Martin's house. I took a shower which turned out to be one of the greatest showers ever. I always love how a hot shower is capable of revitalising oneself.
Shortly thereafter we were on our way to the Cape Town Stadium but only after doing the Fan Walk. What a lot of fun that was.
And given our prime seats Martin was absolutely right. It was a big game and we had big seats. So in the end the Argies were mauled by the Germans. As much as I was not pleased I could not allow a single football result to dampen my spirits. Ten.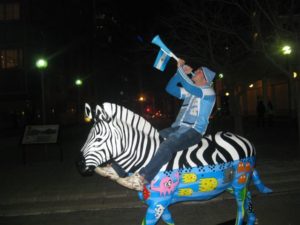 The next thing you knew we were up at the Waterfront's Clock Tower and suddenly a large quantity of my friends began to arrive in their droves it seemed. Marisa, Michael, Patrick, Charlyne, Robert, Andre, Chris and Cindy all pulled in to join us as we drowned our sorrows before sobering up sufficiently to walk back to the car. The pacey 20-minute walk back was characterised by our imitating Sky News reporters and their pronunciation of the "voo-voo-zela – a type of African plastic horn". The other highlight of the walk was carrying Casey on my shoulders and engaging in a blabbering contest to determine which of us was in fact the eight-year old!
Sunday I spent with old friends and my family again. Since moving to Johannesburg I seldom get to spend time with my mom, dad and sister and not only were they there but so too were my gran, uncle, aunts and cousins.
The next day I headed back home but not before a banquet was held in my honour in Kroonstad. Brill has become very domesticated in recent times and he cooked a superb meal for us although I am not convinced Margot did not have to assist.
The rest of the world cup I spent largely with Manfred at Fan Fests or at his place braaing. To conclude I have to say that the period 11 June to 11 July will go down as the best month of my life. I attended 10 matches (remember I had no tickets some 10 weeks before kick-off) at 8 of the stadiums and visited 6 of the Fan Fests. I saw old friends as well as family I had not seen in years plus I made some new friends.
This 30-day period was an honour. It was a privilege but I would like to repeat that there really are no superlatives to lavish upon this time frame and so the best way to describe it is as a blessing from God. This was my world cup.