I was on the late night flight from Johannesburg to Dar es Salaam and filled with excitement as you can imagine. First impressions go a long way and when I was fed a chicken and mushroom savoury pancake on board I knew that everything was going to go swimmingly.
Precision Air's Flight PW 701 landed in the Tanzanian capital in the early hours of Saturday morning and the confusion immediately set in. At this point I want you to try to imagine what an international airport looked like in the 1950s. This will give you an idea of what Julius Nyerere International Airport looks like. No electronic signage whatsoever. Sorry, make that no signage. The guessing games had begun.
Now being a typical male I was not going to ask for help. Not at first anyway. So I looked around and tried to work things out for myself among the ubiquitous Vodacom and Airtel advertising. I saw a board. Yes, there was signage and it read "Domestic Departures". As I had already had my passport stamped and bought my visa that was surely the next step. Surely.
Surely not.
After walking down a short hallway I ventured up the stairs to the first floor and found a waiting lounge, boarding gates and no personnel. I u-turned and found a policeman, swallowed my manly pride and asked for help. I was told not to worry as the check-in counters would open shortly. He even told me which counter to proceed to. How he knew is beyond me.
After engaging in some good old American and Aussie bashing with fellow travellers it was time to board the short half-hour flight from Dar to Zanzibar. Some passengers were nervous when they saw the aircraft's propellers but I had been on one of those planes before so I was okay. Only just.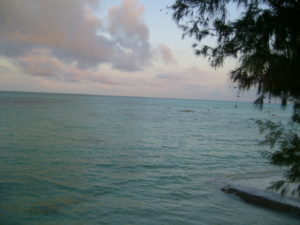 A friendly fellow named Johnny met me at Zanzibar's airport which would not be big enough to launch a NASA space rocket – the kind you can buy in plastic packaging at Pick 'n Pay. Johnny drove the 55km journey from the airport to my hotel in Jambiani. On the way I saw an abundance of palm trees and he told me all about the island's array of spices and fruits as well as the fascinating story behind the history of the plethora of mango trees at Bungi. Legend has it that the Arabian colonial masters copulated with the local woman and afterwards killed them. In acknowledgement of what was done, a mango tree was planted every time.
Johnny revealed that while he had worked at the hotel for many years in different capacities, he also ran a little business on the side. He told me that many Zanzibarians ran a pseudo tour operator business to make extra money while holding down a regular job.
He told me about his offers that were generally priced at half of what the hotel excursions cost. I thought about it. Johnny seemed genuine and I decided I would take the chance. We agreed on two excursion trips and shook hands. To put it into perspective these two day excursions would cost me US$65 as opposed to the combined hotel price of US$190. When you go to Zanzibar I recommend you find Johnny.
I soon discovered that I was in pancake paradise. The Swahili pancakes taste more like your grandmother's pancakes than the two day-old variety at 7-Eleven. I wish to also highly recommend you get your lips around the octopus.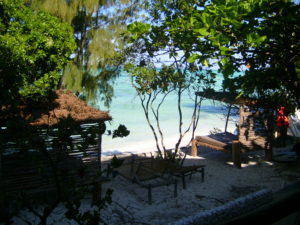 I was always going to make the most of my trip. Living in Johannesburg, the beach has become a luxury. My plan was to go run every morning and afternoon on the Zanzibarian sands but sadly the high tide timing thwarted that good intention. I did manage a daily afternoon trot just before the tide came in. Given the high temperatures and Durban-like humidity you will forgive me for not braving a lunch time run. Many times I found myself sweating furiously like some farm animal and that was just from walking in the shade. I managed to get a load of reading and swimming in and even made friends with a trio of Norwegians who at first thought I was an Australian. I even found a relative amount of fame at the hotel. The Europeans spoke of me as "the guy who runs in the afternoons".
But back to Johnny's tours.
He met me early in the morning and walked out the hotel with me a few metres down the road where his driver was waiting. Yeah, I know it sounds like something out of a 1970s American mafia movie but I figured that hakuna matata (Swahili for "No worries") would be the motto for the day.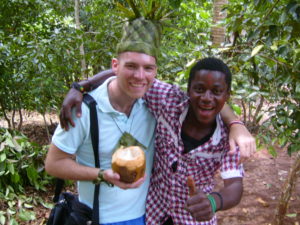 First I was off to the spice plantations. This was the highlight of my trip and I highly recommend it. I was treated to samples of cinnamon, coffee beans, curry leaves, coconuts, pineapples, bananas, mangos, vanilla and aloe vera. A fellow named Tarzan climbed up the coconut tree to fetch the fruit for me. I drank its water known colloquially as Zanzibar Coca-Cola and then ate its flesh. Straight out of heaven I tell you. The flesh tastes like a tough calamari. One of the tour guide's helpers was constantly stringing together leaves rather curiously. By the end of the tour it all came together. He had made me a hat made out of leaves. Sadly after a few days it loses its greenery which is a tremendous shame.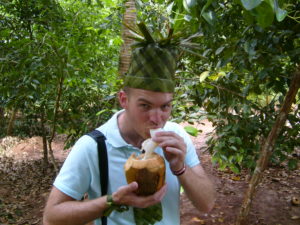 I learned that most of the spices had multiple uses including producing oils, perfumes, skin creams, lipstick as well as cures for malaria, headaches and stomach problems.
The young lad running the spice table at the end of the tour was fascinated by my being South African and urged me to teach him a little Afrikaans and isiZulu. I obliged and by the end of the tour he even remembered to say hamba kahle.
Speaking of being a South African in Zanzibar, I was often greeted by cheers of "Bafana Bafana" when folks found out where I was from. I guess we all try to relate one way or another and given the sometimes inaudible Swahili accent that relation was just fine. Much like the Chinese they tend to trade their "r" and "l" and struggle with the "th" which often comes out as a "s".
After the spice plantation tour it was off to the semi-autonomous island's capital Stone Town. I had been warned not to expect too much. What I found while walking around the markets was that most items found there could be found in a local market in South Africa too. Maybe not precisely the same of course, but similar enough. I then visited the House of Wonders – a name of great hyperbole for the city's museum. After taking a few photos of the nearby harbour and seeing cats mating in the park opposite the quays it was time to head back to Jambiani.
Another of my excursions saw me head to Jozani Forest or the Jozani-Mchakwa Bay National Park. There I saw red colobus monkeys, a salt-water swamp and I fed sea turtles. I mistakenly forgot that Leonardo, tame as he looks, is in fact a wild animal and he nearly did me an injury of mutant ninja proportions as he grabbed the greens from my hands.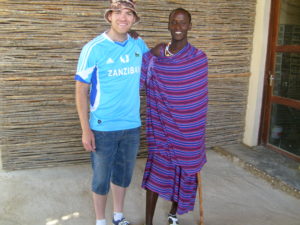 Afterwards it was time to say Asante Sana (Thank you) to Johnny, the tour guides who benefited directly from having me there as a tourist and also the local maasai people who befriended me. They lamented their country's state of poverty and the call for better education was unanimous.
Before I wrap up there is a curious fellow who roams the island. He claims that most South Africans know him and like Johnny, he runs his own excursions. The oddly-named Captain Chicken runs blue safaris, diving and snorkelling expeditions. Where did he get the name from? Before I could ask I heard he had a rival named Captain Fruit. That is when I knew it would be best to keep quite before it all goes pear-shaped.